Canoecopia is presented by
Rutabaga Paddlesports
Virtual Tickets
3-Day: $15.00
Virtual Show Hours (CST)
Fri 3/12: 12 - 8 PM
Sat 3/13: 10 - 6 PM
Sun 3/14: 10 - 6 PM
Phone Hours for Boat & Trailer Purchases
Fri 3/12: 12 - 8 PM
Sat 3/13 - Thu 3/18: 10 - 6 PM

Feedback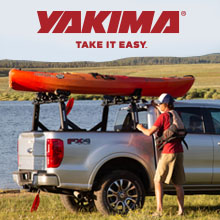 www.midwestconservationdogs.com/





After spending her childhood pretending to be a dog, Laura's wish to get a dog finally came true after she graduated college - and as the saying goes, the rest is history. Since 2004, Laura's dog-centric passions have transformed her into becoming a professional dog trainer and bonafide "scent dog nerd," which led to the inevitable creation of Midwest Conservation Dogs, Inc. in 2017.

In 2019, Ellen Voss traded her scientist cap for an outreach hat with River Alliance of Wisconsin. Serving as the Aquatic Invasive Species Program Director, she tries to get people to care about something many don't know is a problem. In her spare time, she can be found panting up the Driftless hills on her bicycle, attempting to catch suckers in trout streams, or training her puppy Loki to sniff out morels.


bookmark

Fishing license sales spiked throughout Wisconsin during the pandemic, raising concern that fishermen and other water enthusiasts may be unknowingly giving aquatic invasive species (AIS) a free ride to new locations. Of particular concern was the New Zealand mudsnail (NZMS), a prolific invader that is extremely small, born pregnant, resists most chemical disinfectants, and can live outside of water for almost a month. There are several known locations of this snail in Wisconsin's trout creeks, and evidence suggests that they are spreading via recreational gear to other parts of the state. Early detection of these snails is key to keeping new populations in check, and the rivers and streams we all love safe.
Professional conservation detection dogs can locate AIS with reliable accuracy. Their ability to detect an aquatic target diluted into parts per trillion has enabled them to swiftly and efficiently lend a paw to aquatic conservation-which means the rivers you love can keep flowing with peace of mind! In 2020, Midwest Conservation Dogs, Inc. began training their conservation K9s to sniff out these worrisome invaders. In partnership with River Alliance of Wisconsin, the Wisconsin Department of Natural Resources, and Upper Sugar River Watershed Association, stream sediments were collected in Dane County as well as other locations in the Driftless area. The hope is that with a quick sniff of the sediments, these conservation K9s will provide a rapid presence/absence status update of this snail in Wisconsin that will guide future conservation efforts in the state.
This presentation will highlight the project and how detection dogs sniffed out these snails to assist conservation efforts.
bookmark