First up, we have some interesting developments from Yakima.
Yakima
Roadshower Series (10 G, 7 G, 4 G)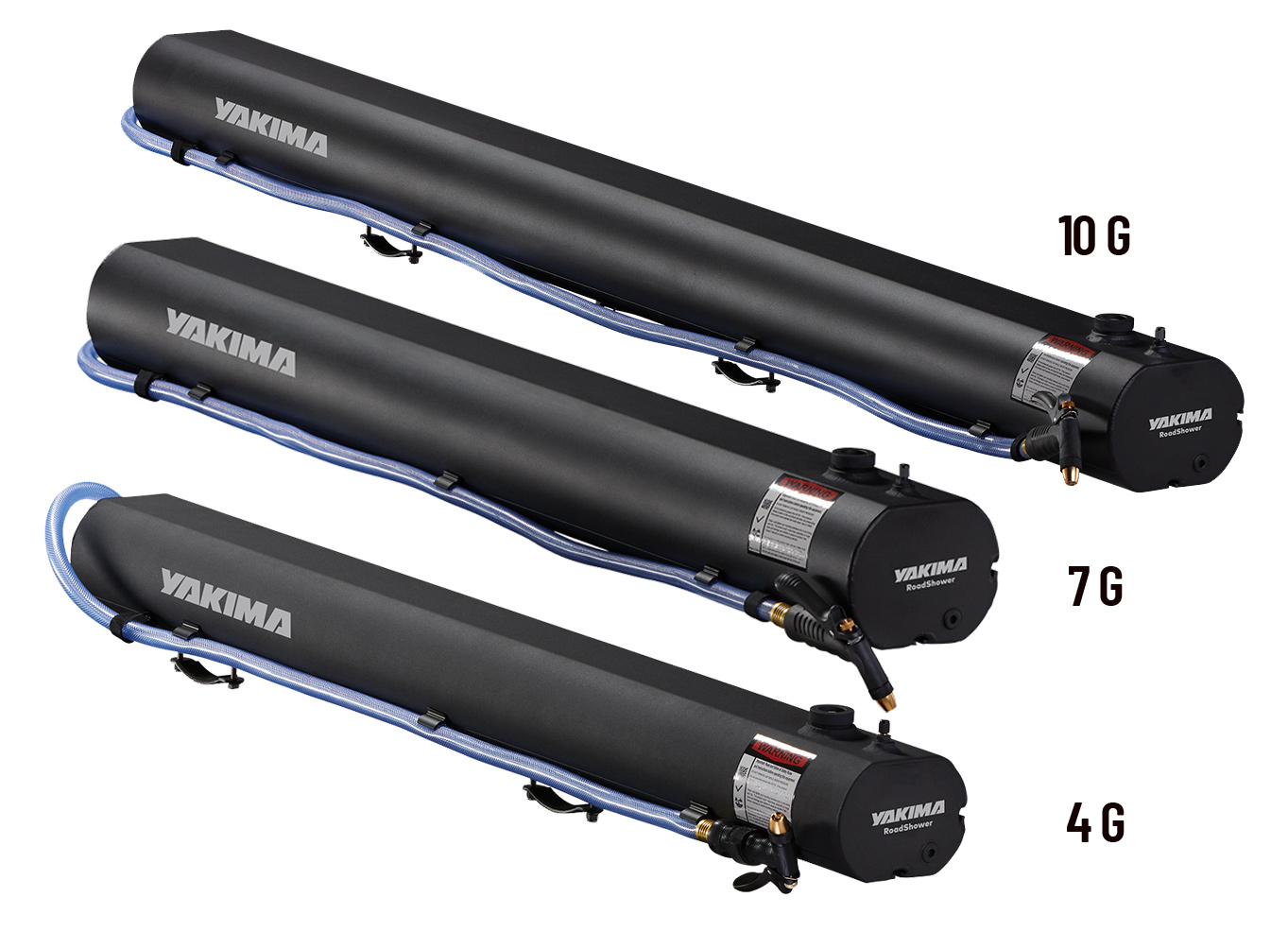 The RoadShower lets you get clean
before
you get home. Carrying between 4 and 10 gallons (15 to 38 L) of easily fillable water that you can pressurize (via hand or a electric pump) up to a relief-valve-limited 55psi, the RoadShower makes quick work of muddy bikes, shoes, or dogs. It can even save marriages if you happen to be blessed with a clean freak.
The black powder-coated aluminum tank soaks up the sun's rays, warming the water. Spent all day in the roaring hot sun? There's an included stick-on thermometer to make sure you're not trying to clean up in a roaring hot spring.
The stainless steel universal mounting hardware will fit all Yakima bars (naturally) and virtually every other roof rack as well.
Yakima
SlimShady Awnings Series (4.5, 6, 8.5 foot span)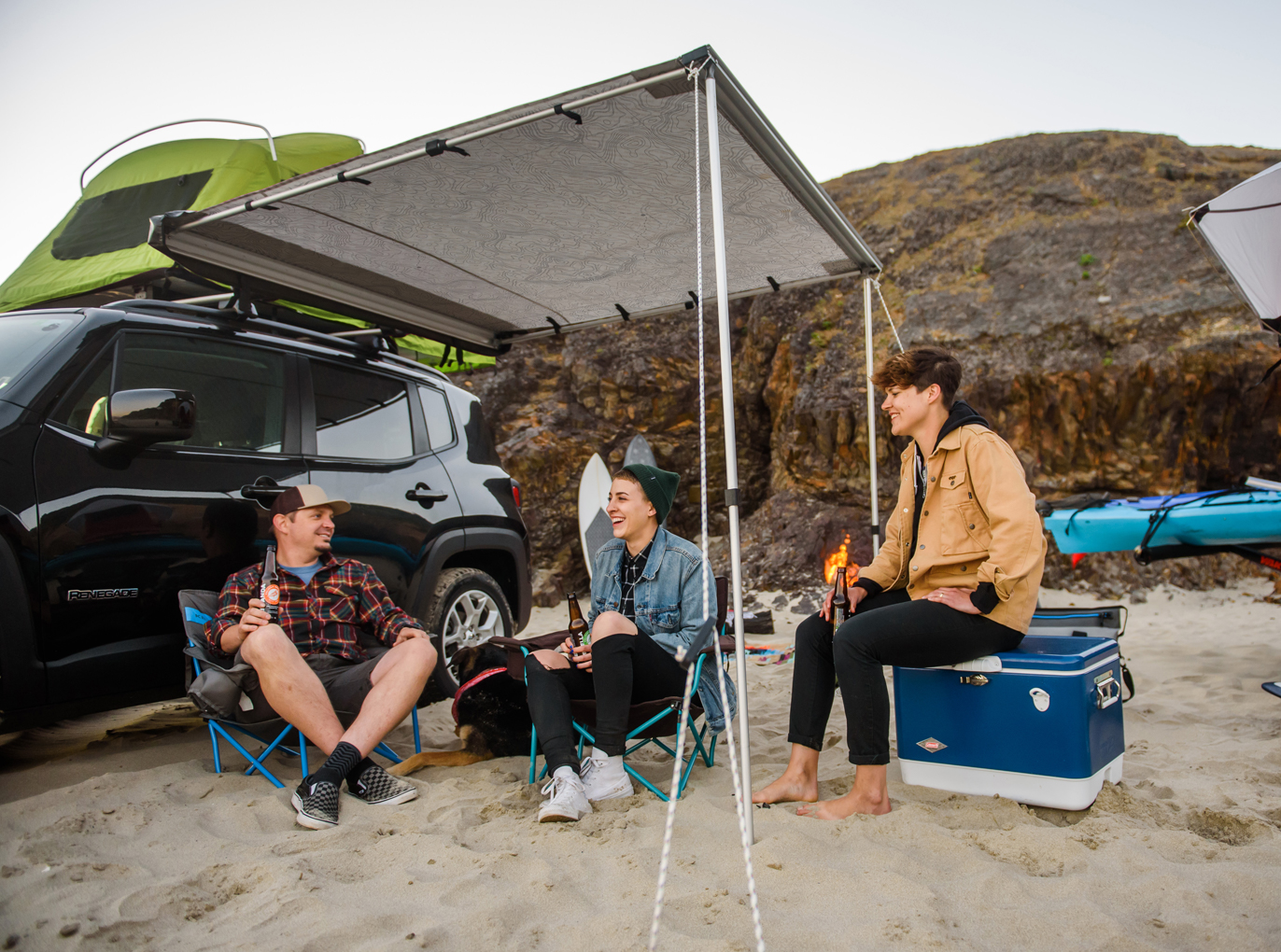 So there's really no reason you have to bake yourself under the sun, or hang around in the rain unless you really want to. Sure, you can set up a massive tarp, or tent. You
could
also decide to bring along enough building materials to create a 2-story home. But... is that the best use of your time and effort? No. Probably not.
If you're driving out to the beautiful spot, why not just bring along a super quick and easy awning? One that only eats up six inches of space along your crossbars? May I suggest the SlimShady?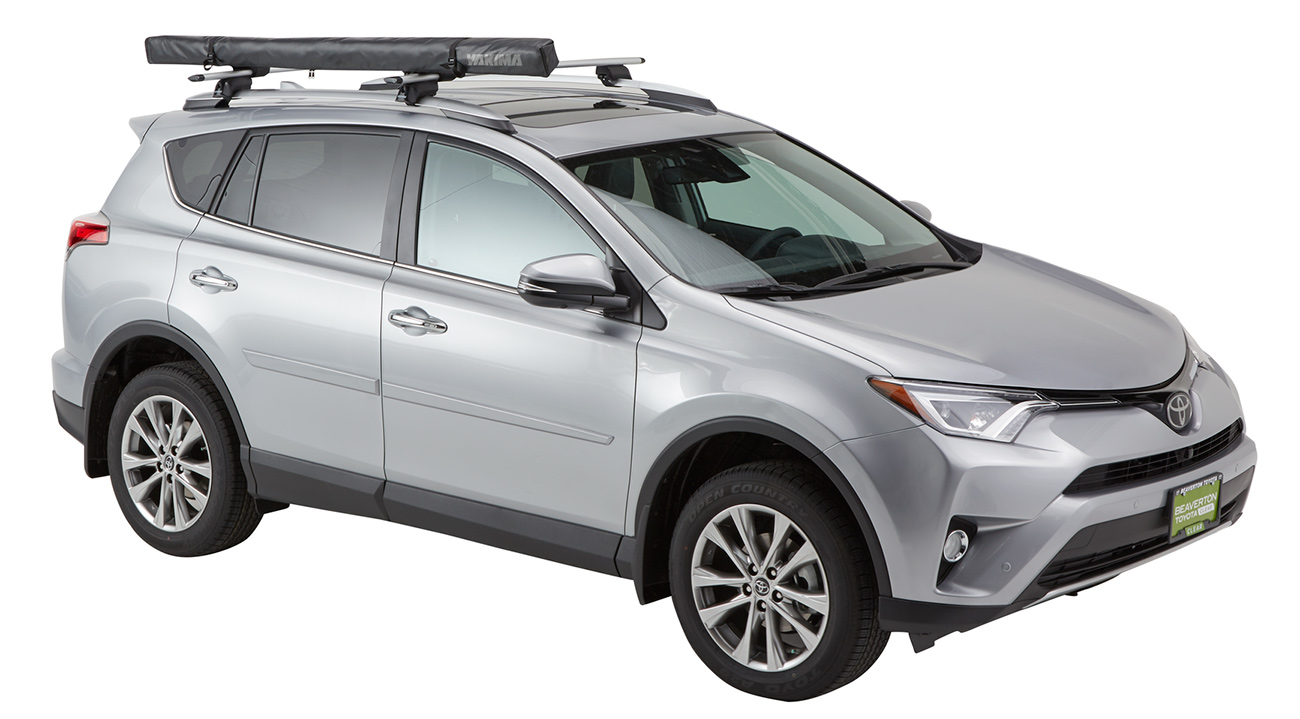 Roll it out, lock the poles and -bang!- you're ready for relaxing alone or with company.
Not sure which size is right? I wasn't either. Luckily, Yakima included this really helpful image to make it simpler.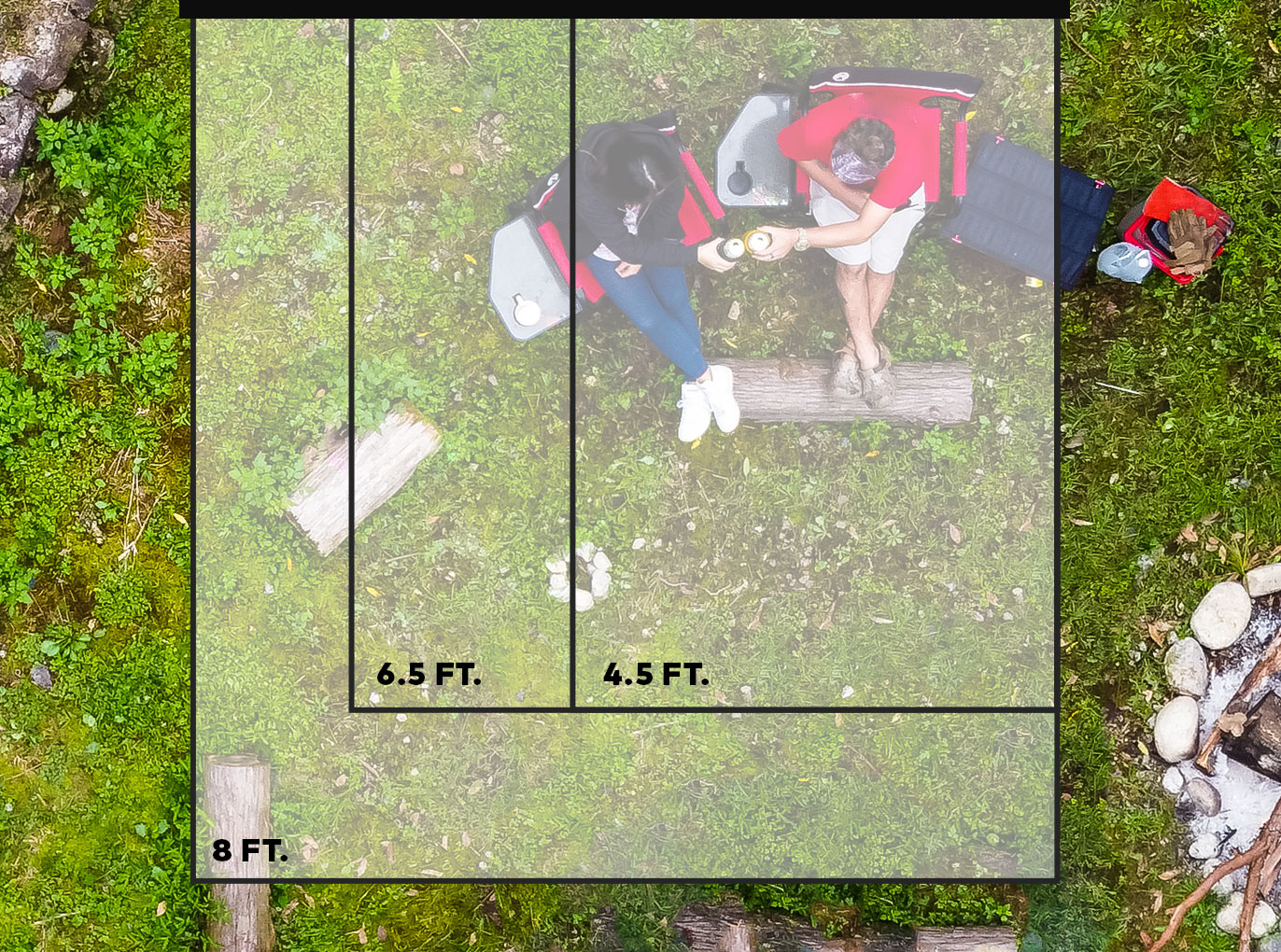 So, depending on the size of your crowd, you've got a quickly-deployed, always-around sunshade ready for whenever slowing down and watching the world seems like a good idea.
Yakima
EXO Rack System
Consider the EXO rack as an entire system for your 2 1/4" hitch mount. First we're going to look at the base of it. It's called the
SwingBase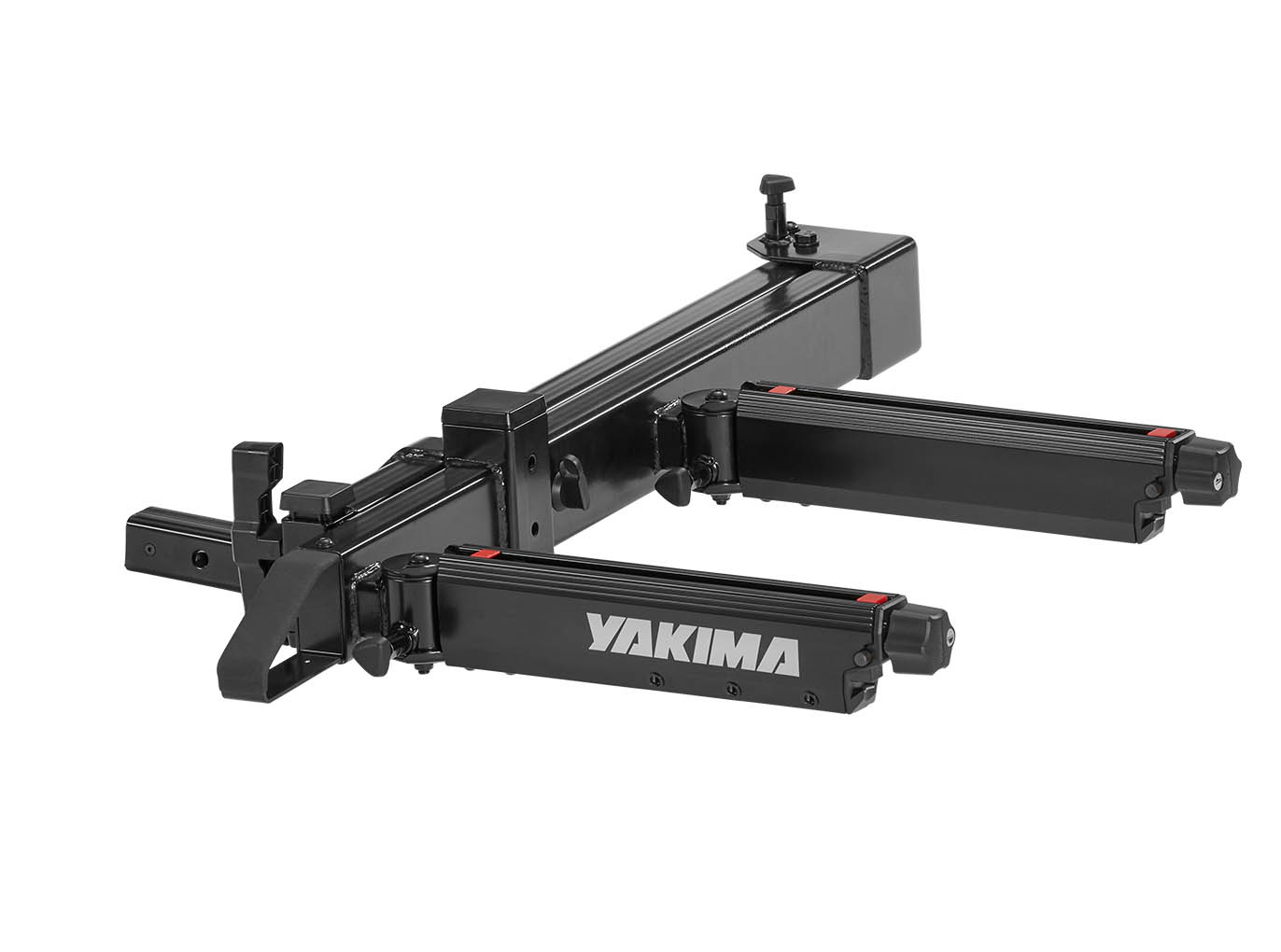 Above you can see it with the arms outstretched. That could be a tripping or shin-barking hazard, so the engineers helpfully made it fold in like this: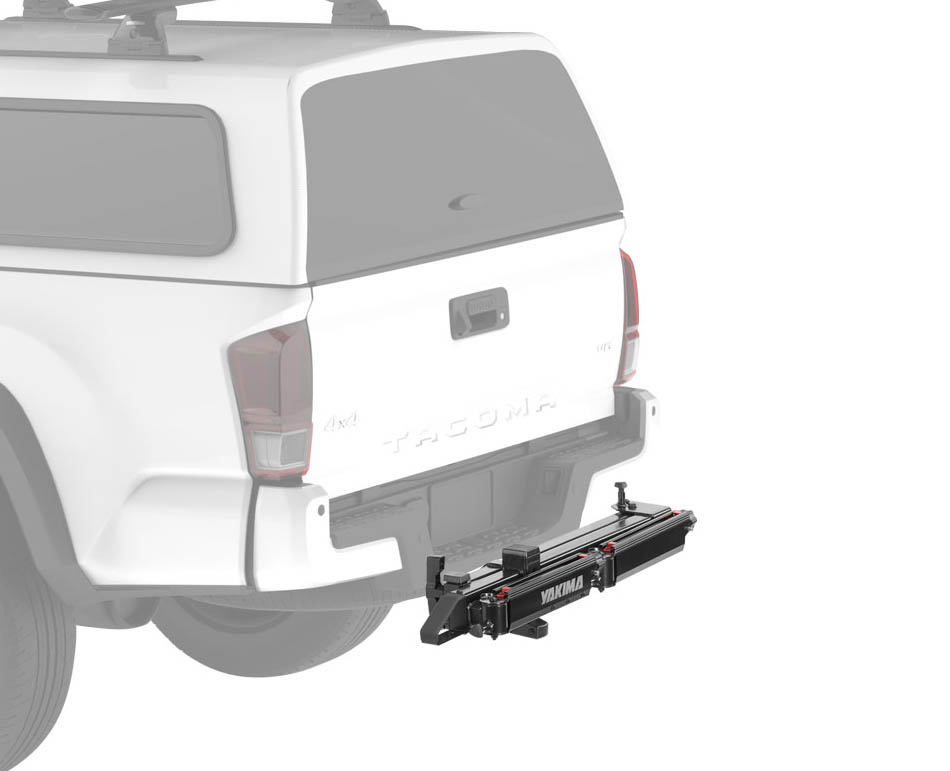 So you're saying, "Cool, but why should I care?" Well, because you can load it up big-time. This is a foundational part of a whole new system. I mean, just look at the recreational possibilities in the picture below.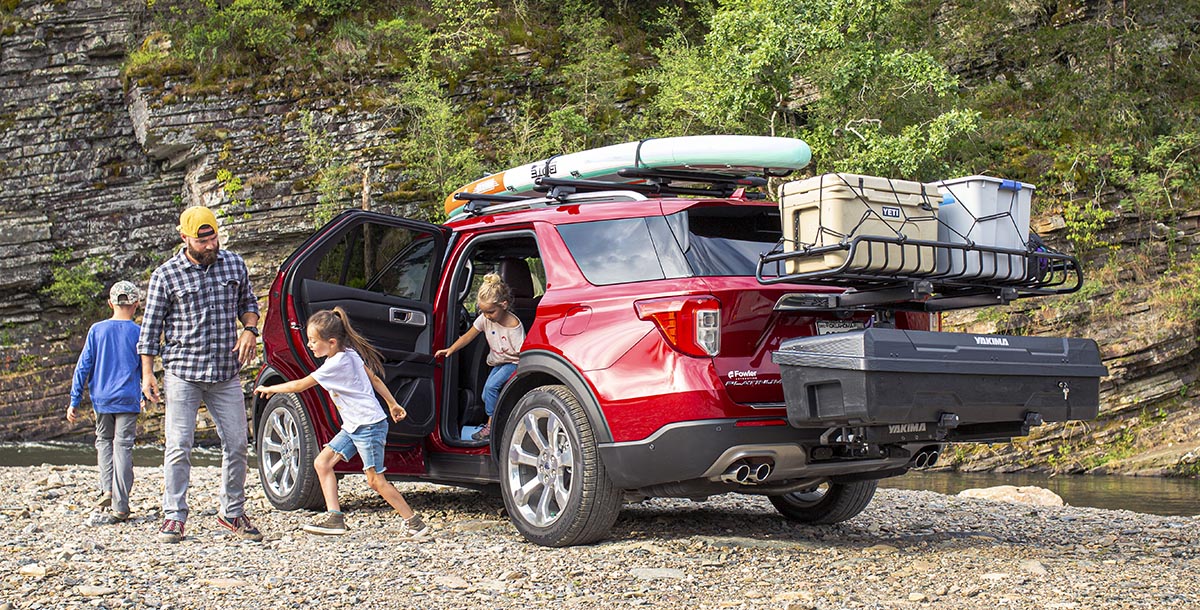 Ok, ok, I hear you there in the back corners of the Internet. You have correctly identified that there is no way our happy family is going to be able to get to anything in the back of their SUV. It's blocked by the EXO. Ah, but don't you think Yakima saw that too? Check this out!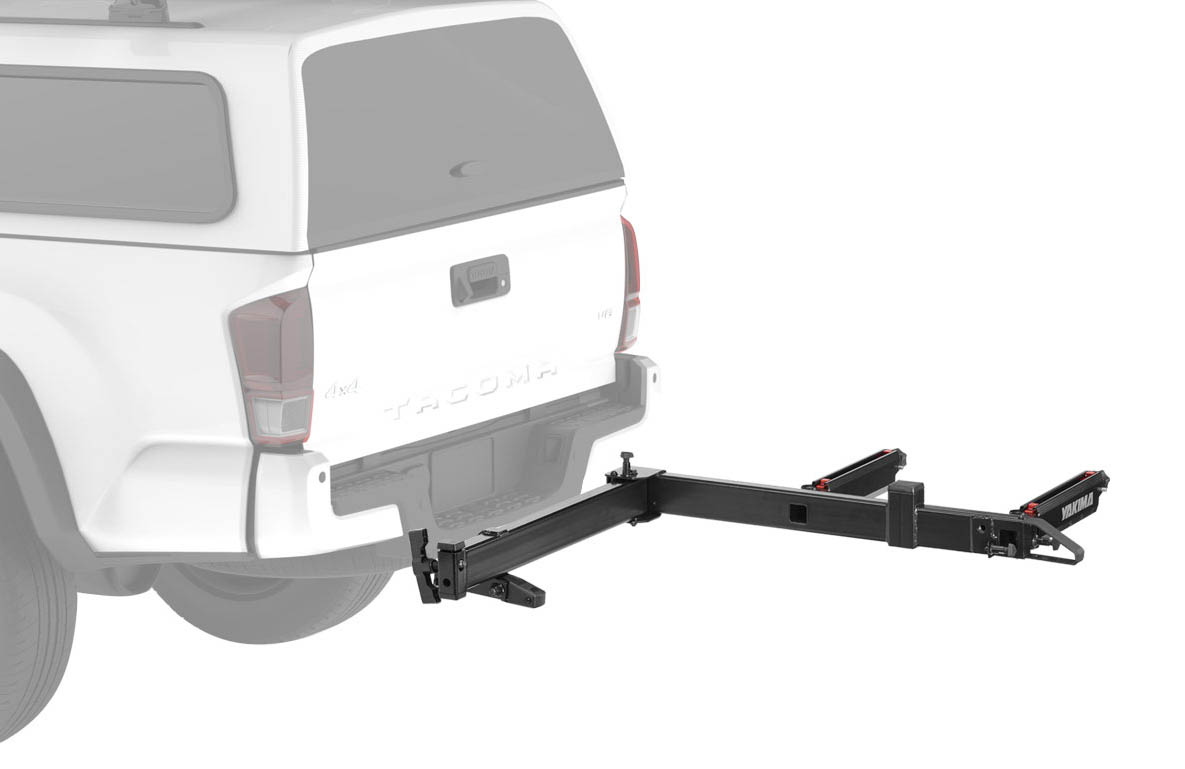 The SwingBase uses the "Swing" in there for more than just the holder arms and the lindy-hop. It pivots away so you can get at stuff in the back of the vehicle.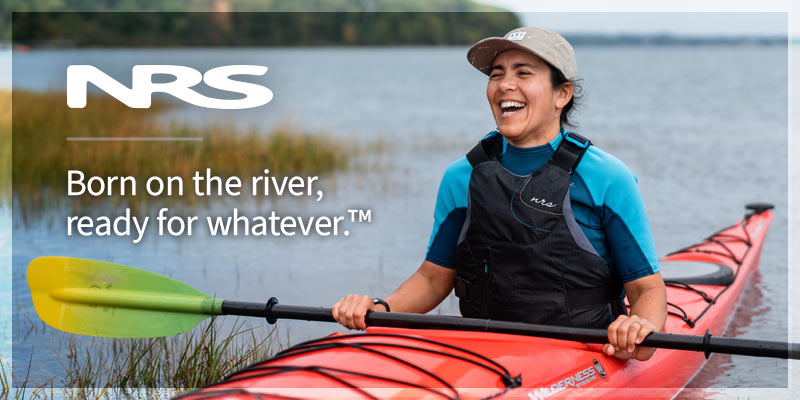 Yakima
EXO GearLocker
Around
your humble editor's house
we don't go on any Big Trips without our roof-rack-mounted luggage box. It's just too convenient to leave behind. Now I (Jim) don't have much trouble finding what's lurking about in there as I'm 6'4". My beloved is more than a foot shorter and many is the time that I've heard her attempting to rectify with salty language what probably would be better served with a medium footstool. Enter the GearLocker.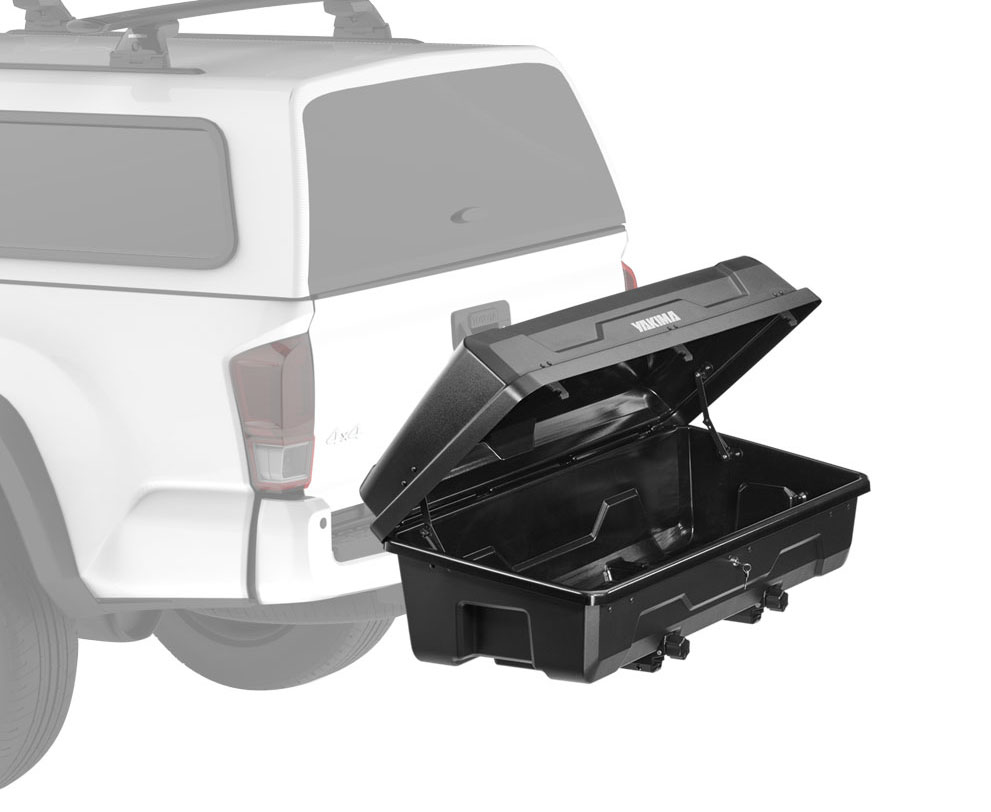 It's got 10 cubic feet of easy-to-see-and-access storage. There's a spring-loaded hinge to make opening easier and to keep the lid from choosing an inconvenient time to close. Yakima's SKS (Single Key System) is of course supported.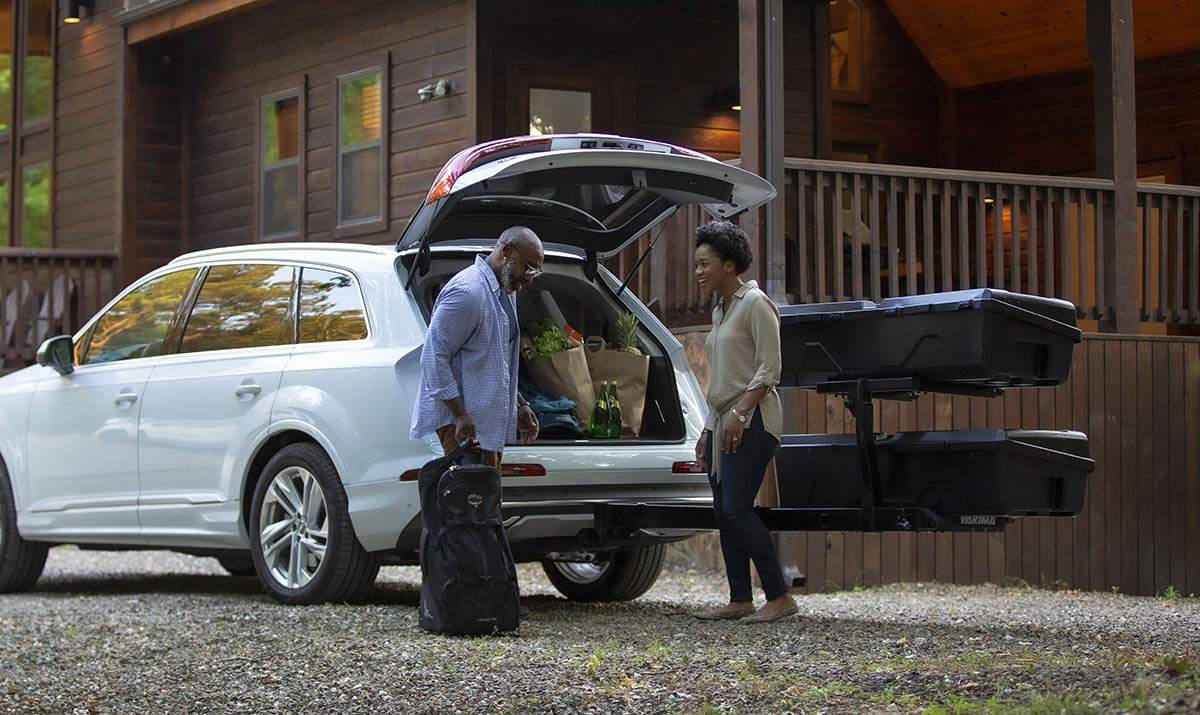 If you mount it on the lower (standard) part of the EXO SwingBase, Yakima rates it as good for up to 100 pounds of gear. As you see from the pictures, the SwingBase can accept an upper shelf (EXO TopShelf) adapter and then you're limited to 80 pounds.
How hard is it to load? Easy. It clips in with the EXO cleat system. (Also worth noting... it is easier to load something at torso height versus lifting it up above your head. My shorter, better half wanted me to make sure I stressed that.)
Yakima
EXO GearWarrior
The GearWarrior is the rougher, rowdier cousin of the GearLocker. If you've got coolers, firewood, or other bulky gear to transport, strap it in to the powder-coated, steel GearLocker.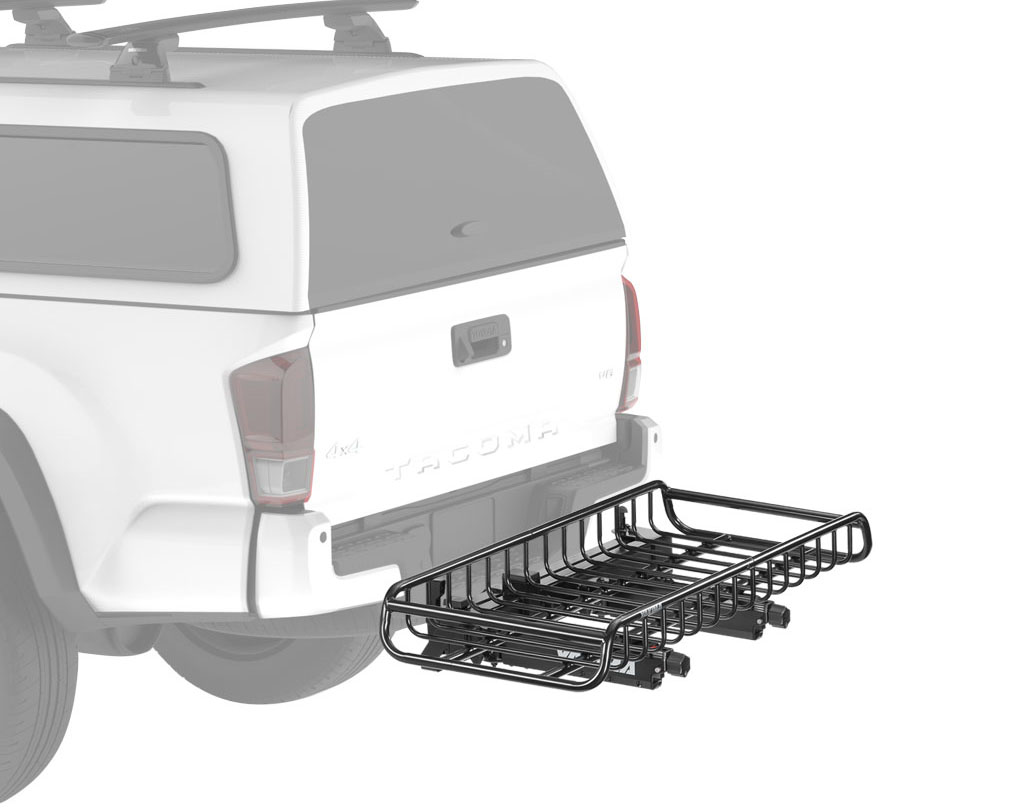 You can carry a lot with it, too. Without the upper lift system (the EXO TopShelf) you can load it with up to 250 pounds of goodies (110 lbs if the TopShelf is installed, and 80 lbs if it is installed on the TopShelf). Just like the GearLocker, it mounts in seconds with their cleat system.
Thule
Tepui Foothill
If you move to a new site often, or just don't drive much once your campsite is set up, these rack-mounted tents are the bomb. Imagine going from this: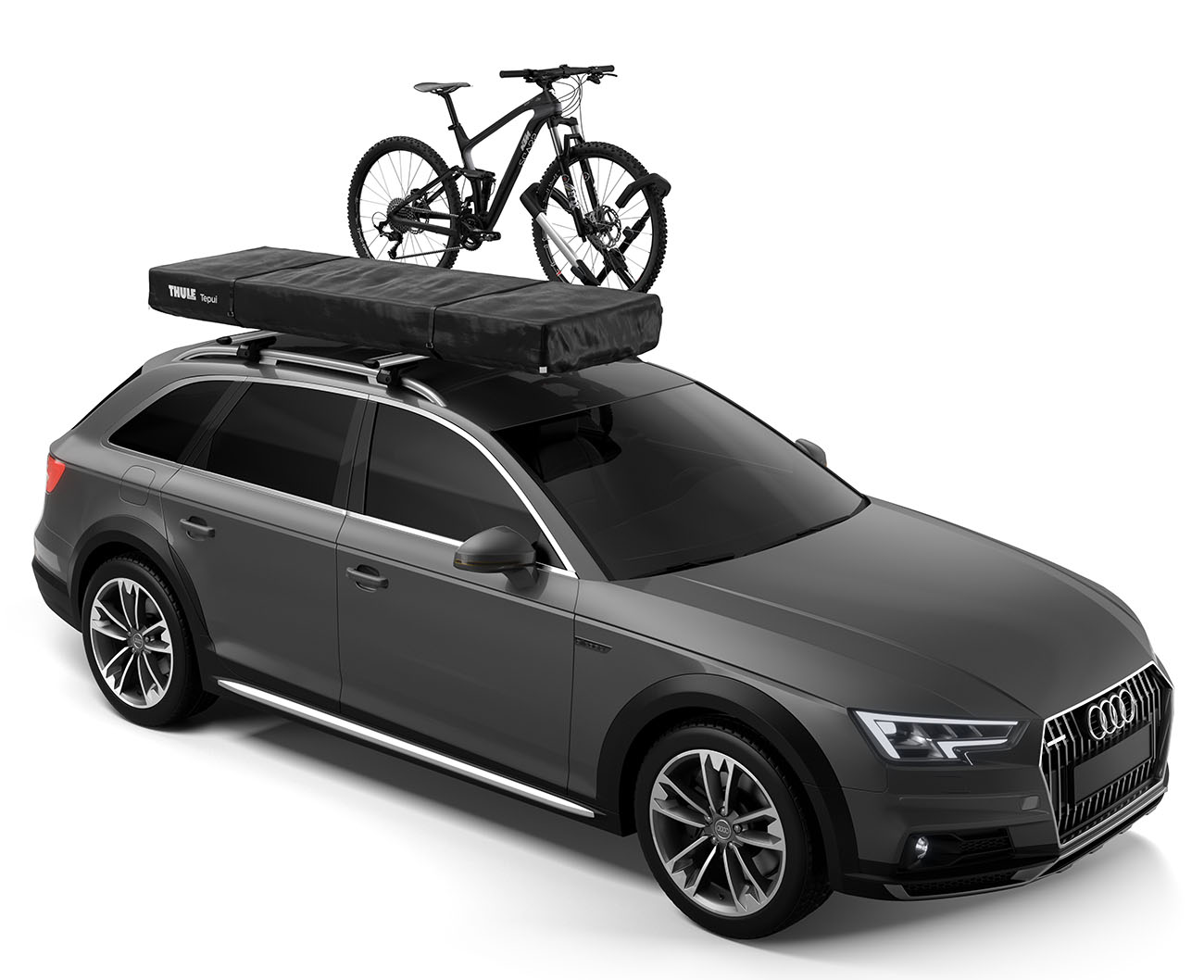 to something like this, in no time at all: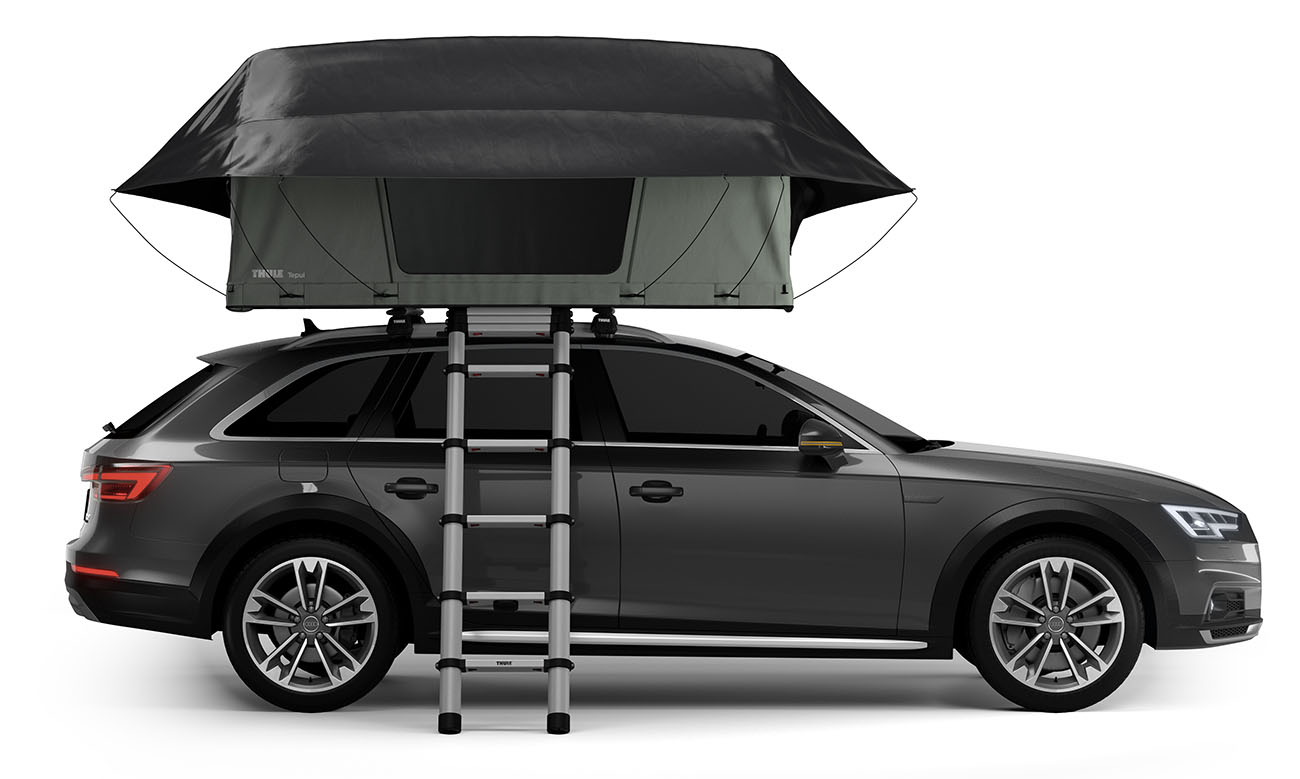 The Tepui Foothill has a low-profile, symmetrical design, so you can mount it on either side of your rack. Its telescopic internal frame poles allow one person to set up or tear down easily. Thule redesigned the base to reduce weight and also increase its strength and stability.
What about ventilation? Oh, it's got that. Dual skylights for stargazing and a huge panoramic window off the back. Since these tents are up off the ground, you won't find yourself with a river of rainwater running under your floor if Mother Nature decides to entertain you with a monsoon.
The Foothill weighs in at a very reasonable 108 lbs (maximum static capacity is 400 lbs) and is only 9.5 inches thick when it's closed, so it can be stored almost anywhere.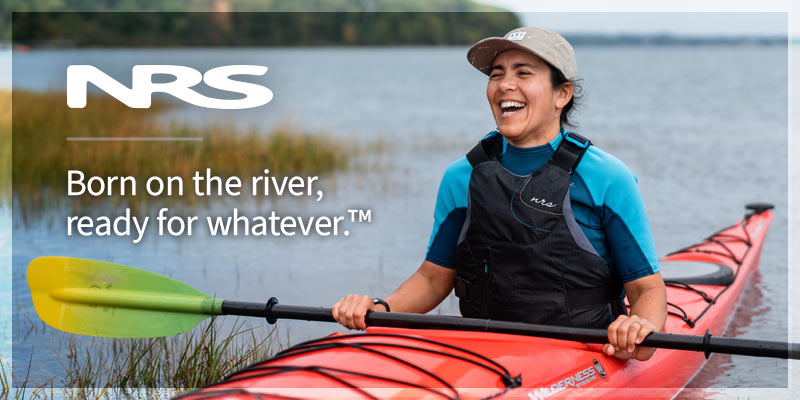 Malone
Channel Loader
The Channel Loader is an incredibly simple to use kayak loader that works with nearly any vehicle and fits most boat hull configurations. The design includes an extra-tall frame that reaches over most spoilers, and a narrow footprint to allow loading of two kayaks on the vehicle's rooftop.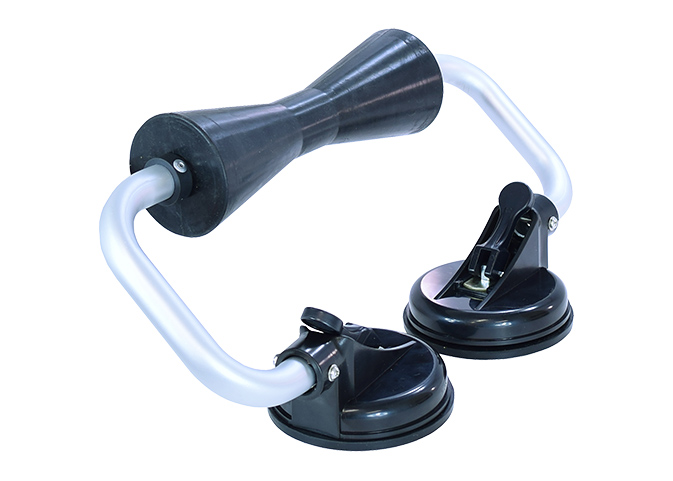 Other features include an over-sized 10-inch-wide conical roller to improve boat control and a three-position adjustment system to match any angular loading requirement. The heavy-duty toggle-activated vacuum cups have non-marking pads that protect the vehicle's sheet metal from abrasion. Stores in the trunk or hatch when not in use.