Level Six
Duke
Paddling gear has come so far from when I was a dorky kid bumping in to rocks (and sometimes flipping over on or next to them). I remember the joy, of course, but if I'm honest, I also remember being often kinda cold and very wet. Paddling jackets were foreign to me then. Luckily, that's not the case now. I really like breathable waterproof jackets like Level Six's Duke.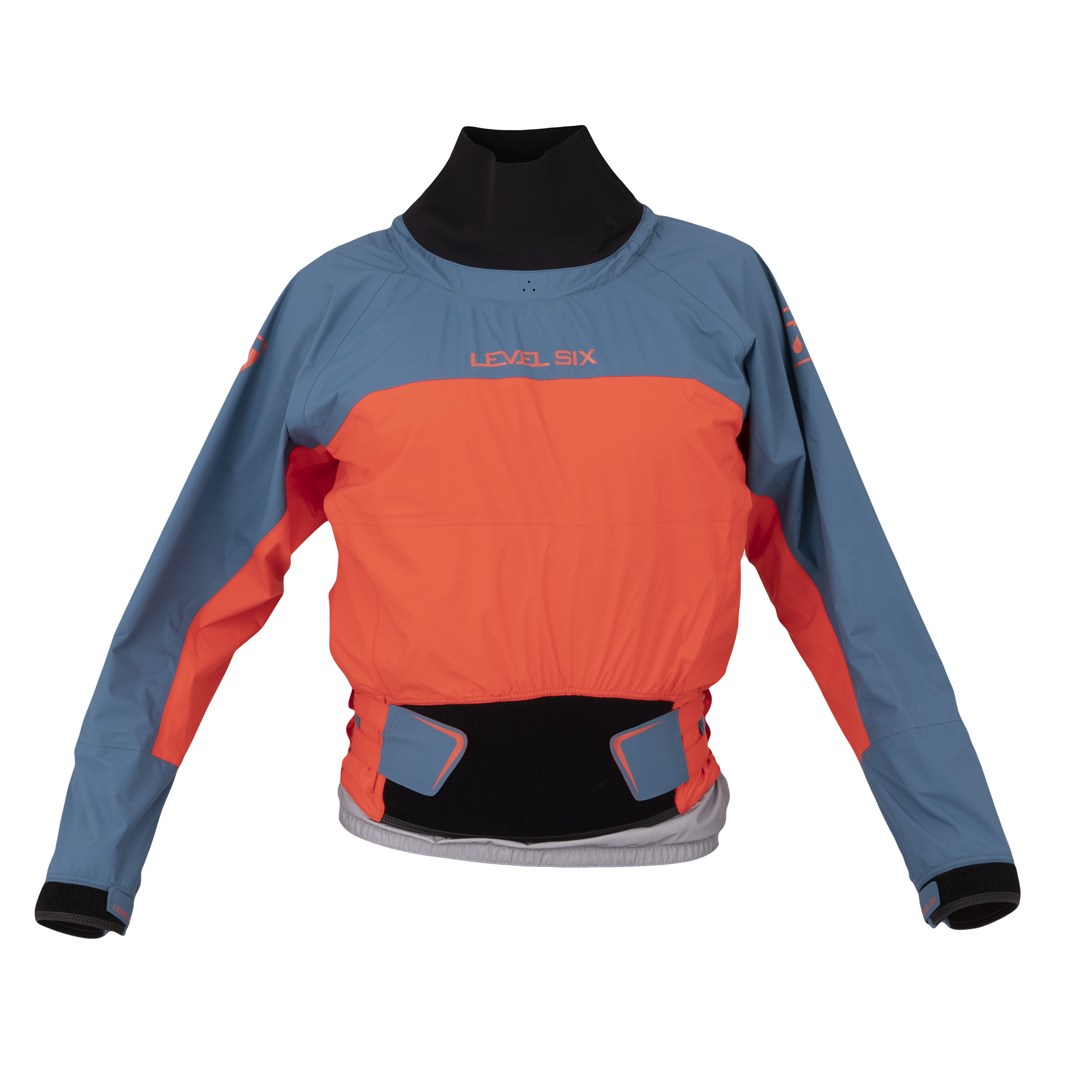 It is a 3-season paddling dry top constructed from their lightweight eXhaust 2.5-ply waterproof breathable nylon and features a cut that gives you a completely unrestricted range-of-movement. The overlapping double-tunnel and the stealth waistband system work with your skirt tunnel to provide you with a drier seal and better paddling experience. And though it looks like it's just neoprene at the neck, it's not. That's a full rubber gasket there.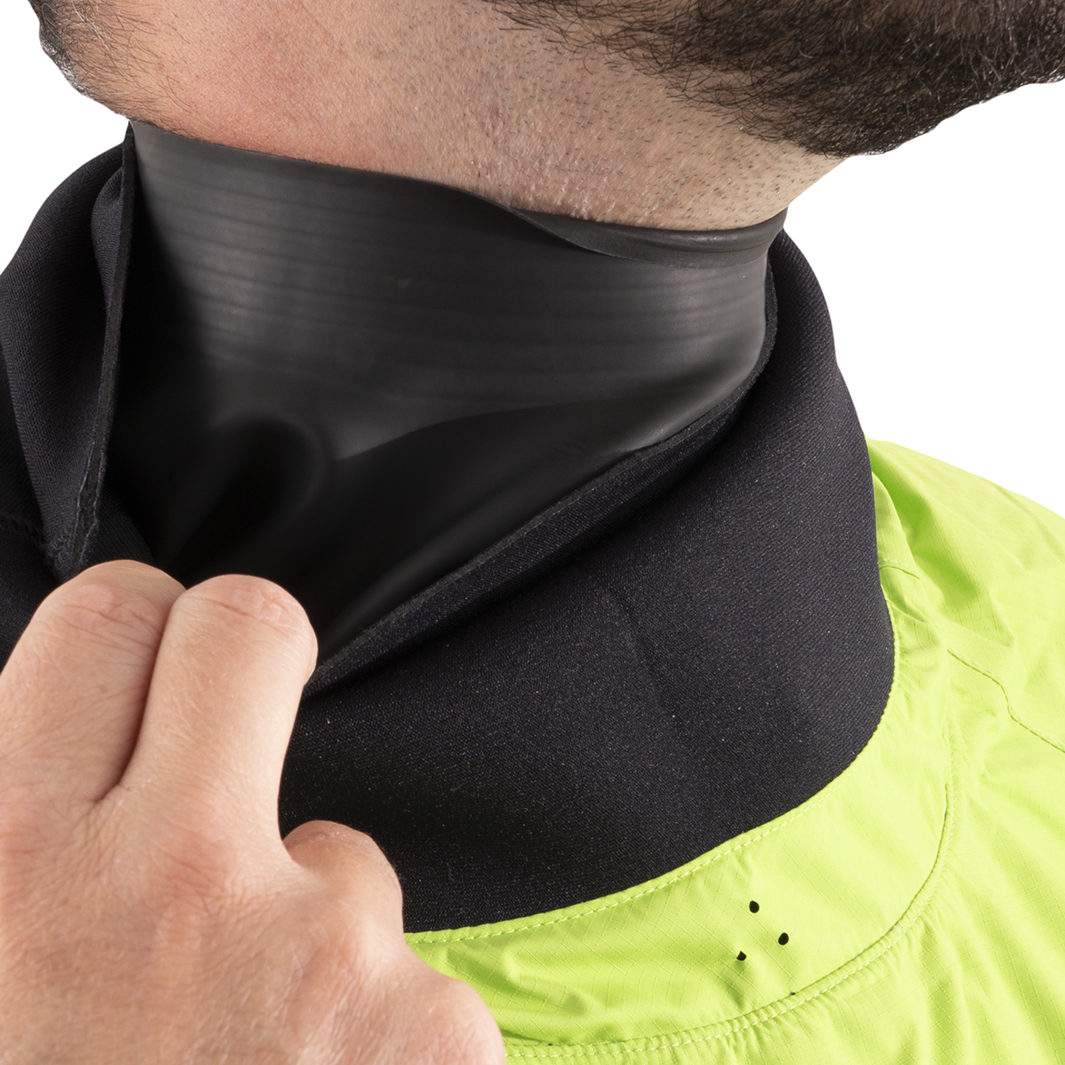 Level Six
Surge
Consider the Surge to be the lower half of the Duke (or any other three-season top). It's made of the same eXhaust 2.5 plus eXhaust 3.0 waterproof breathable nylon fabrics.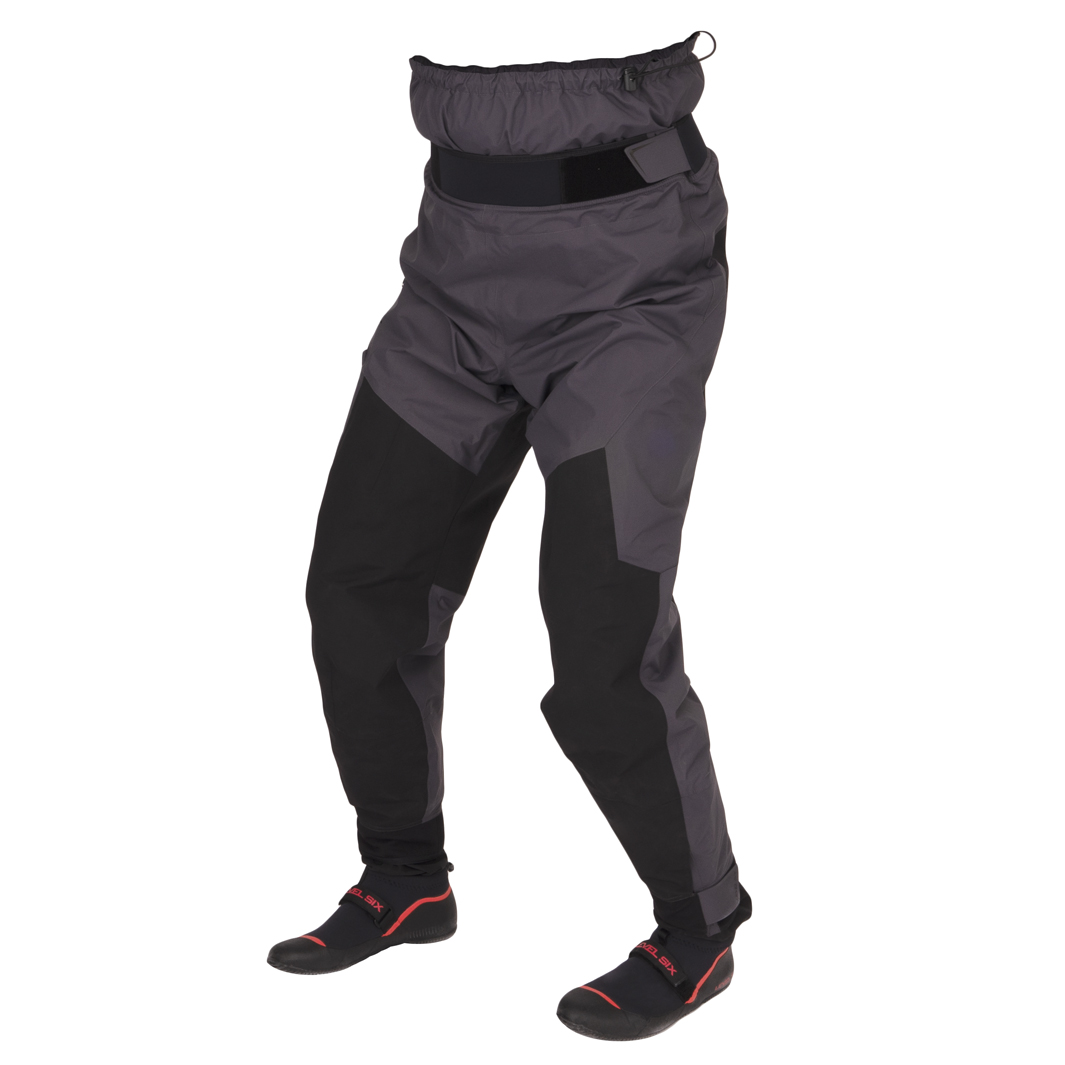 It's got articulated knee and leg panels, and an adjustable single-cuff ankle closure with dry sock.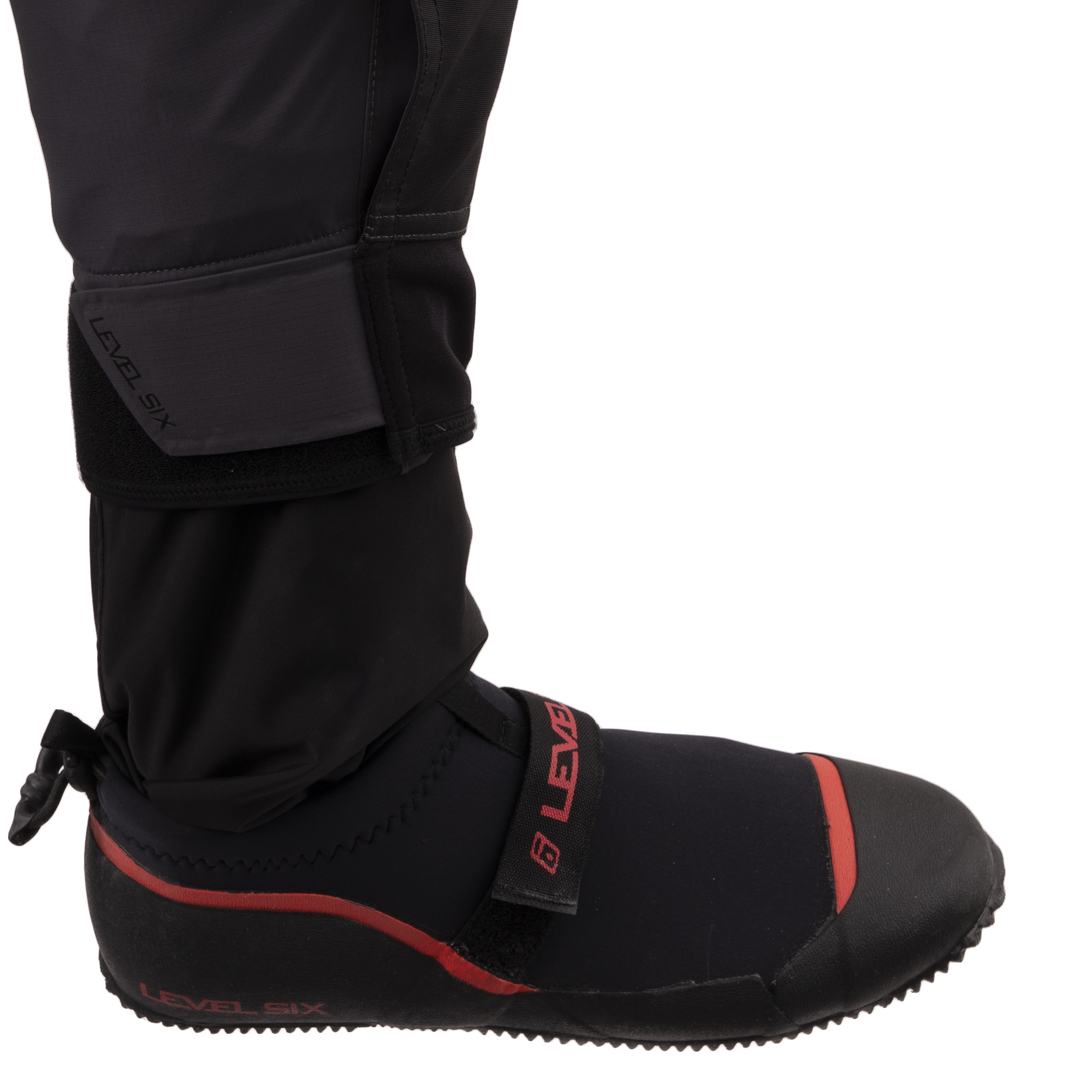 Other noteworthy features include a hip pocket with built-in drainage, as well as reinforced seat, knees, and legs. Need a place to keep a key? Got that too. A hidden safe-key pocket is included.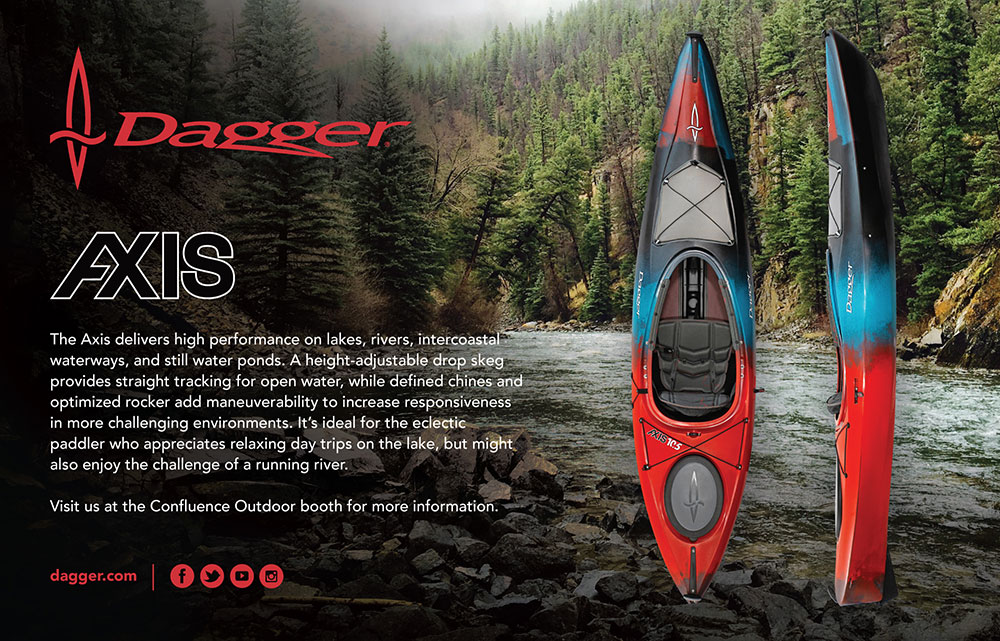 Level Six
Pro Goddess and Pro Guide
Level Six put a lot of thought in to the Pro Goddess and Pro Guide. (I would quibble with their naming scheme as I think it's entirely possible for someone wearing the Goddess to also be a pro guide, but hey, that's just me...) They wanted (and got) an inner 0.5mm neoprene layer for warmth and thermal protection out on the water, but also a durable and stretchy nylon outer layer for style points and abrasion protection that wouldn't impede movement or bind while you were moving around.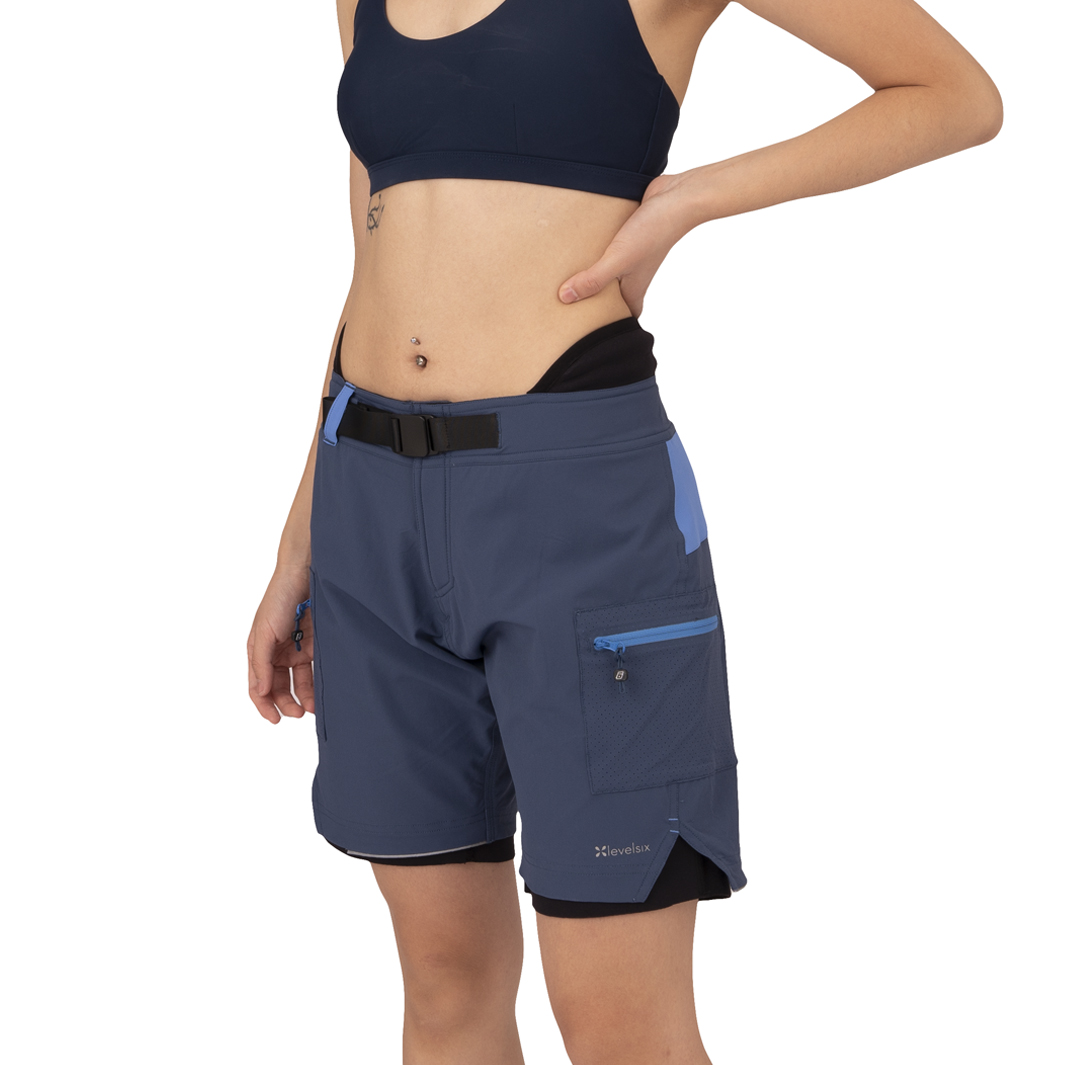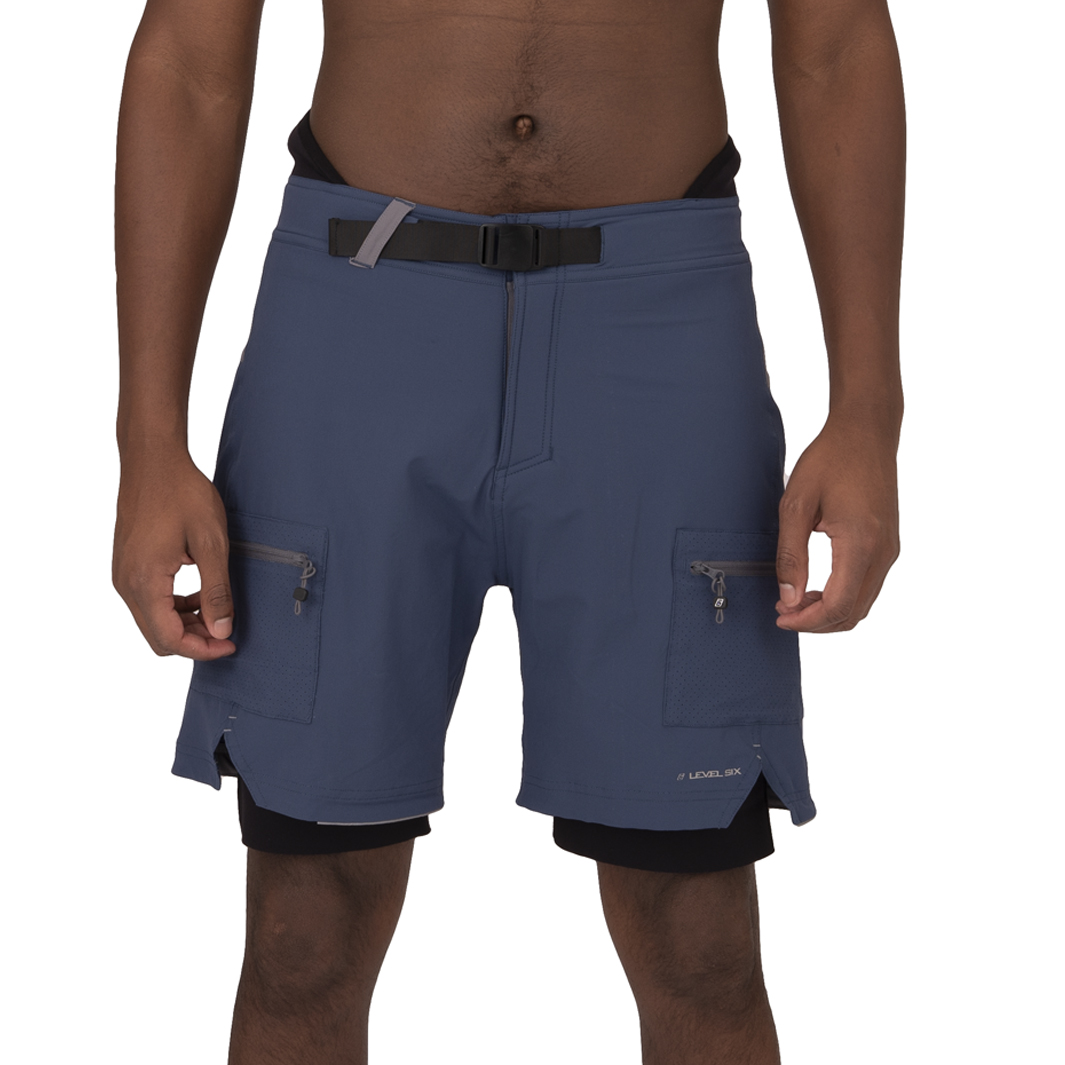 Also includes two zippered side pockets for storing keys, lip balm, etc. If you're looking for an ultimate on-water adventure short, you may have just found it.
NRS
Pivot
NRS has some great updates to their Pivot drysuits. The biggest updates are around the seams, which are softer than ever before, and that makes for a much more comfortable suit whether you're standing or seated. YKK Aquaseal zippers are used for entry and relief positions. They're more supple than last year's TIZIP® MasterSeal version.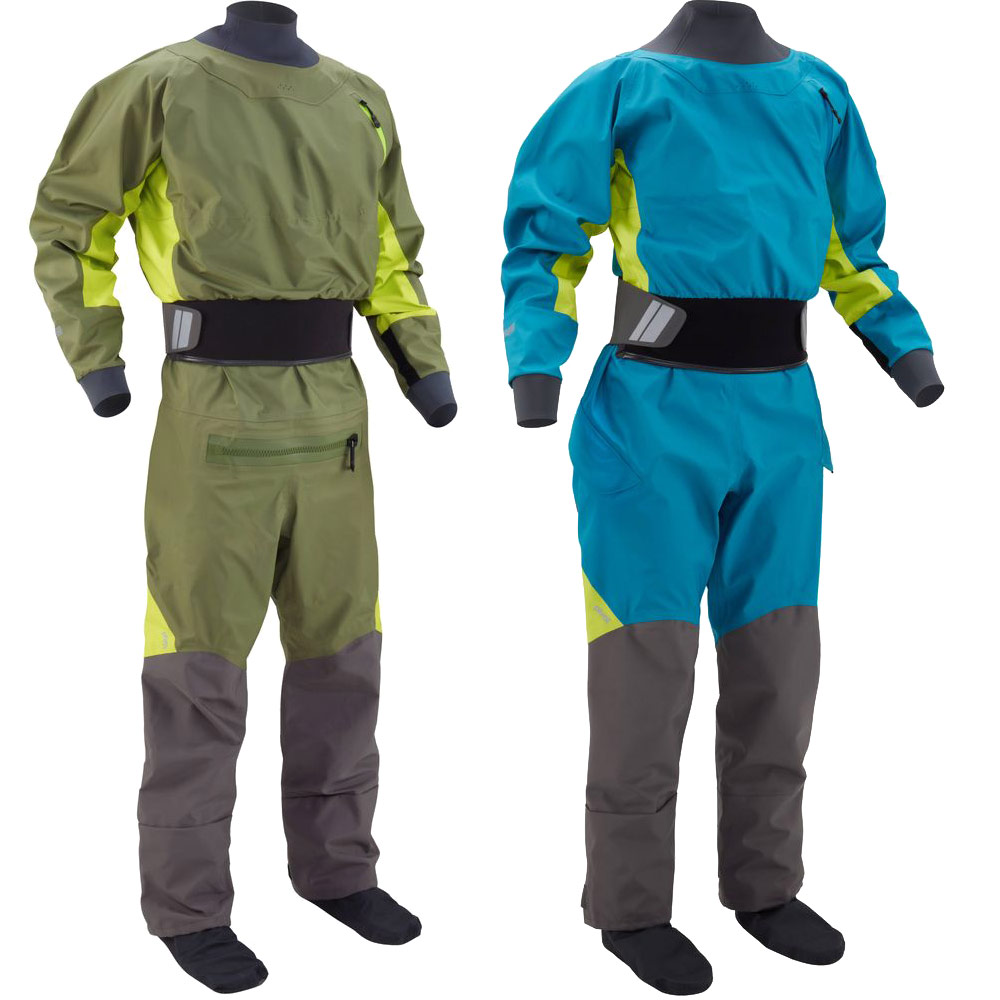 (Obviously, that's the men's on the left and the ladies' on the right.) They kept the same Eclipse 4-layer waterproof breathable fabric. Pivot drysuits use an entry zipper on the back. It allows for a greater range of motion and reduced chance of any splashing water sneaking past that seal. The men's and ladies' versions are sized and shaped appropriately for each, as well as placement of the relief zippers.
NRS
Crux
The upgrades to the Crux below are essentially the same as the changes to the Pivot listed above. The TL;DR summary: softer, better seams, nicer zippers, still fantastic waterproof breathable fabric.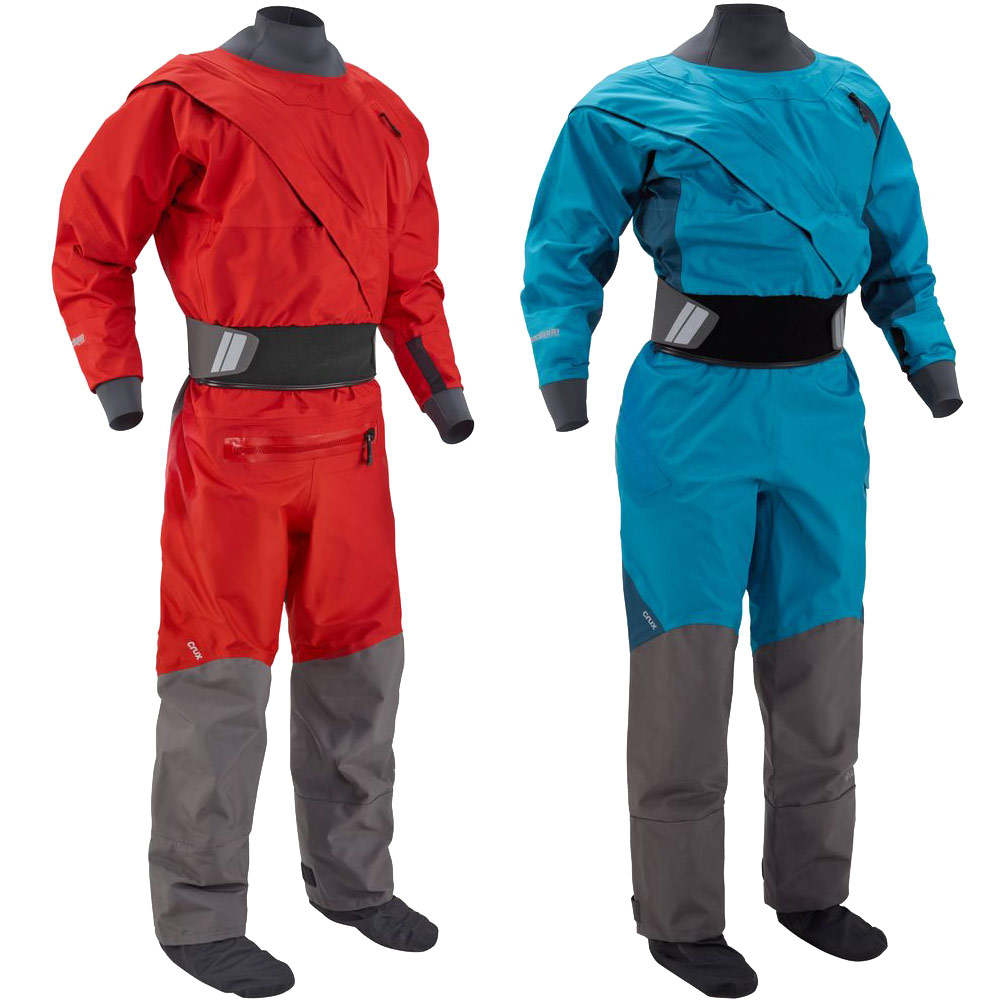 What's the difference? The biggest is in the placement of the entry zipper. The Crux puts it on the front. While that naturally constrains some motion, it sure as heck makes for easier solo entry. If you often go out with a partner, you might like the Pivot. If you're a solo paddler, you'll probably appreciate the Crux.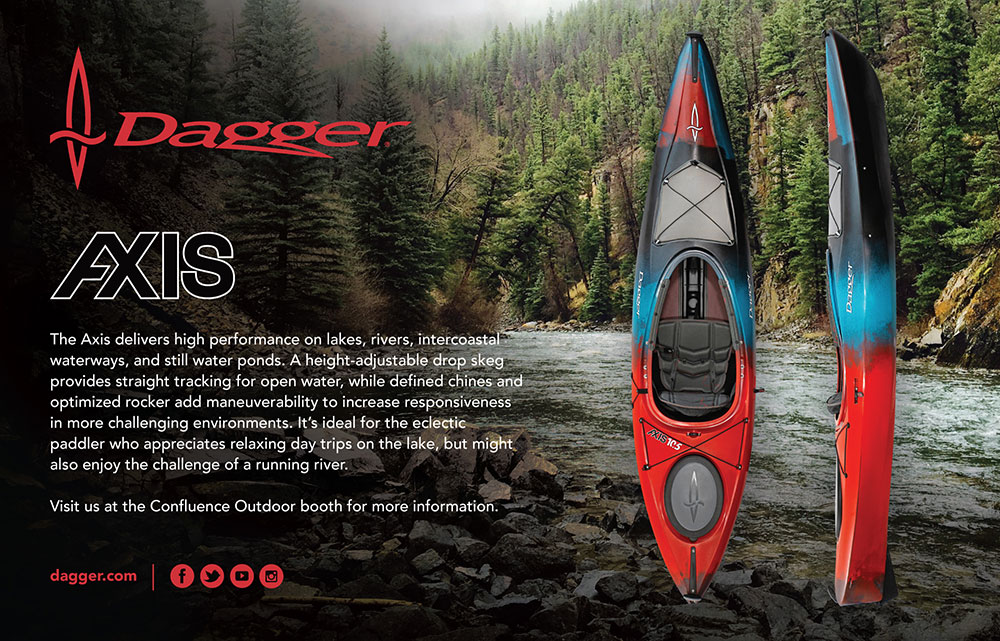 NRS
HydroSkin .5
I'm guessing a bunch of you have some Hydroskin .5 in your paddling locker. It's super thin and easy to move around in while giving a lot of warmth (thank you, Titanium laminate). Good stuff. But the guys at NRS had an idea how to make it better.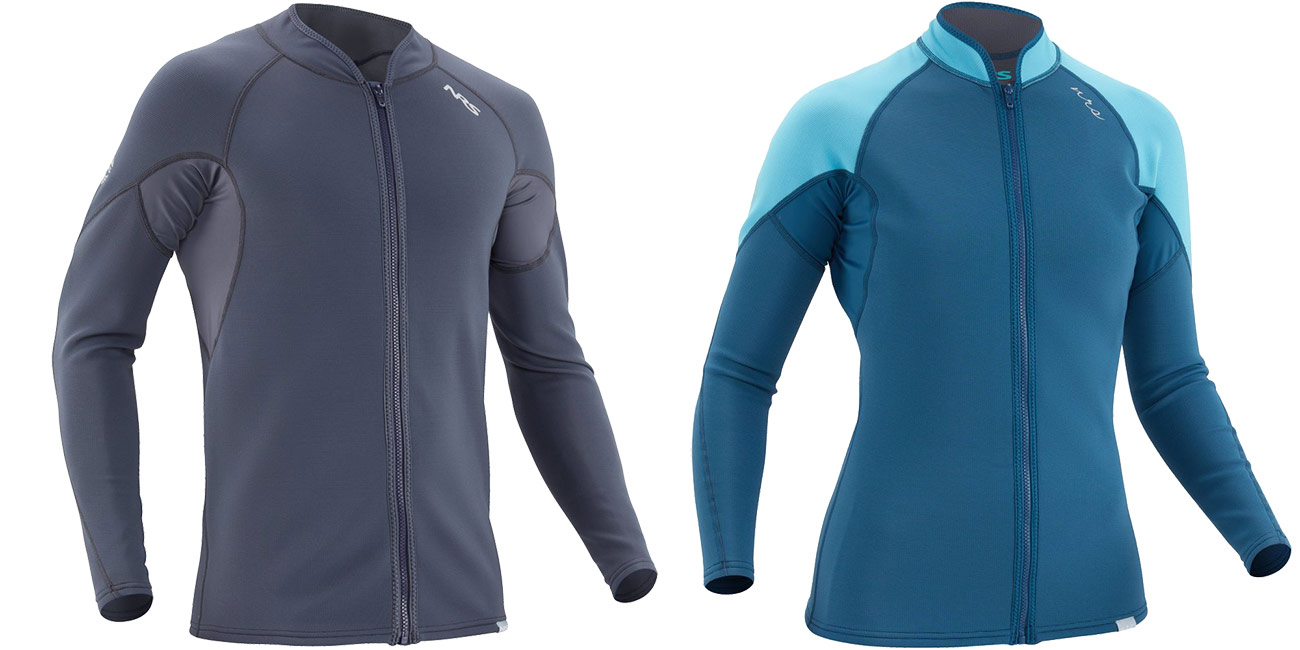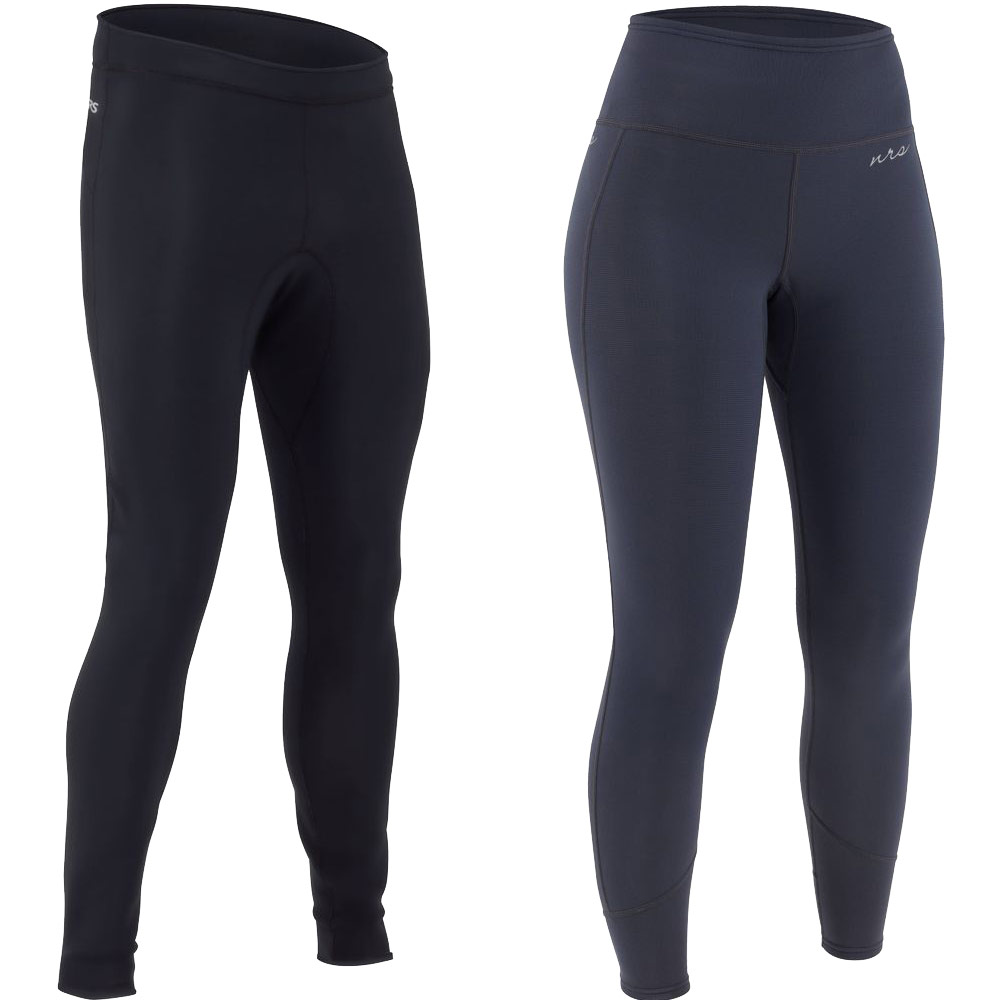 (Yes, men's on the left, ladies' on the right. Why am I even saying that...)
The new material is 100% hydrophobic. That means water doesn't want to interact with it and vice-versa. That means it sheds water and is therefore lighter (nice!) and does not have evaporative cooling (very nice!). It dries super-fast so when you go to put it on you're not getting back into a wet, squishy bit of paddle clothing. It's available in the jacket and pants you see above, but also in short and long-sleeve shirts, shorts, and capri length for ladies.
NRS
Farmer John and Farmer Jane
The biggest changes to the Farmer John and Jane wetsuits are hardest to see. In order to really appreciate them, you'd need to go to the factory where they're made. See, these are as environmentally-friendly as they come.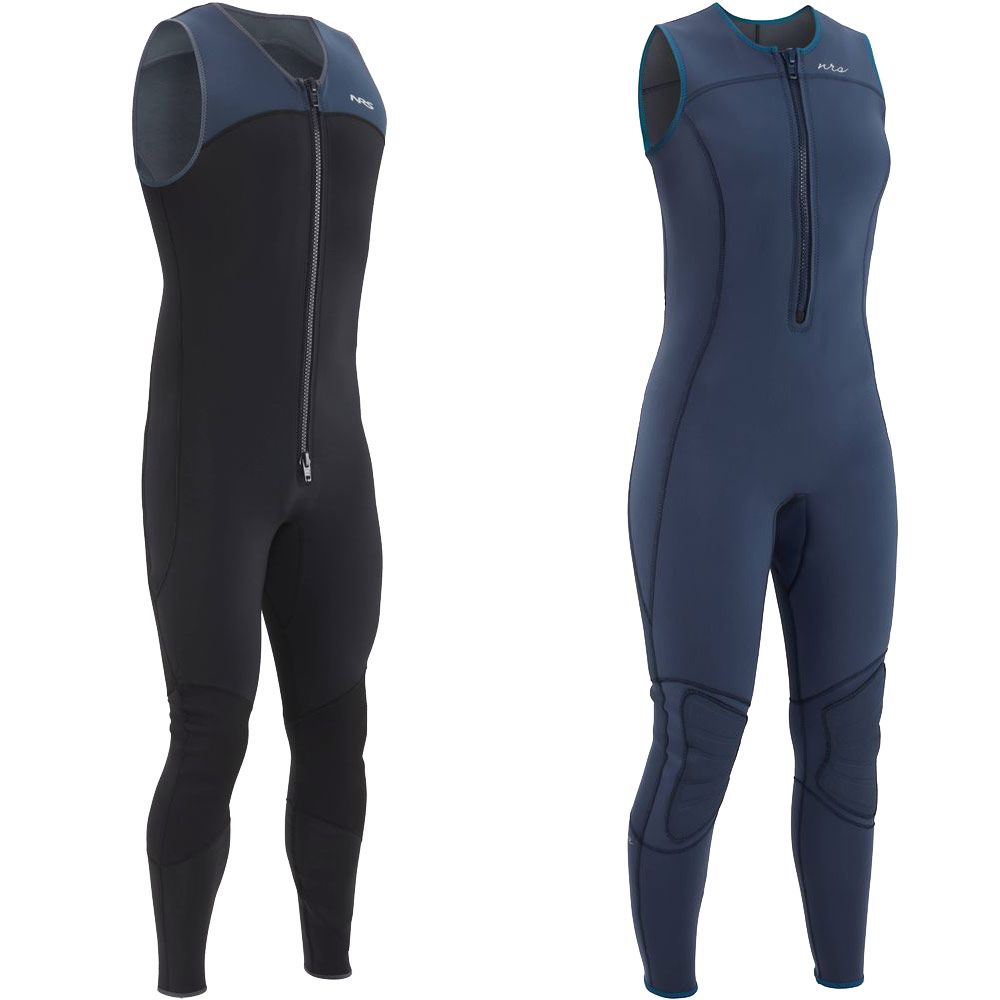 First, the neoprene is made from 100% recycled materials. The interior is 100% recycled nylon for fantastic stretch and performance. Then they switched to a new 'dope dying' process to color the fabrics. Dope, right? Well, the big bonus is that the new process uses 65% less water than before. They still have their titanium laminate for reflecting heat back to the body which means increased comfort. So, yeah, pretty dope.
NRS
Boundary Boots
The big upgrade for NRS' Boundary Boots this year is traction. It got a super soft, super sticky sole for when your µ (or '
mu
' or 'coefficient of traction') is low and you don't want to demonstrate a particularly embarrassing or dangerous slip and fall. So, like, useful all the time!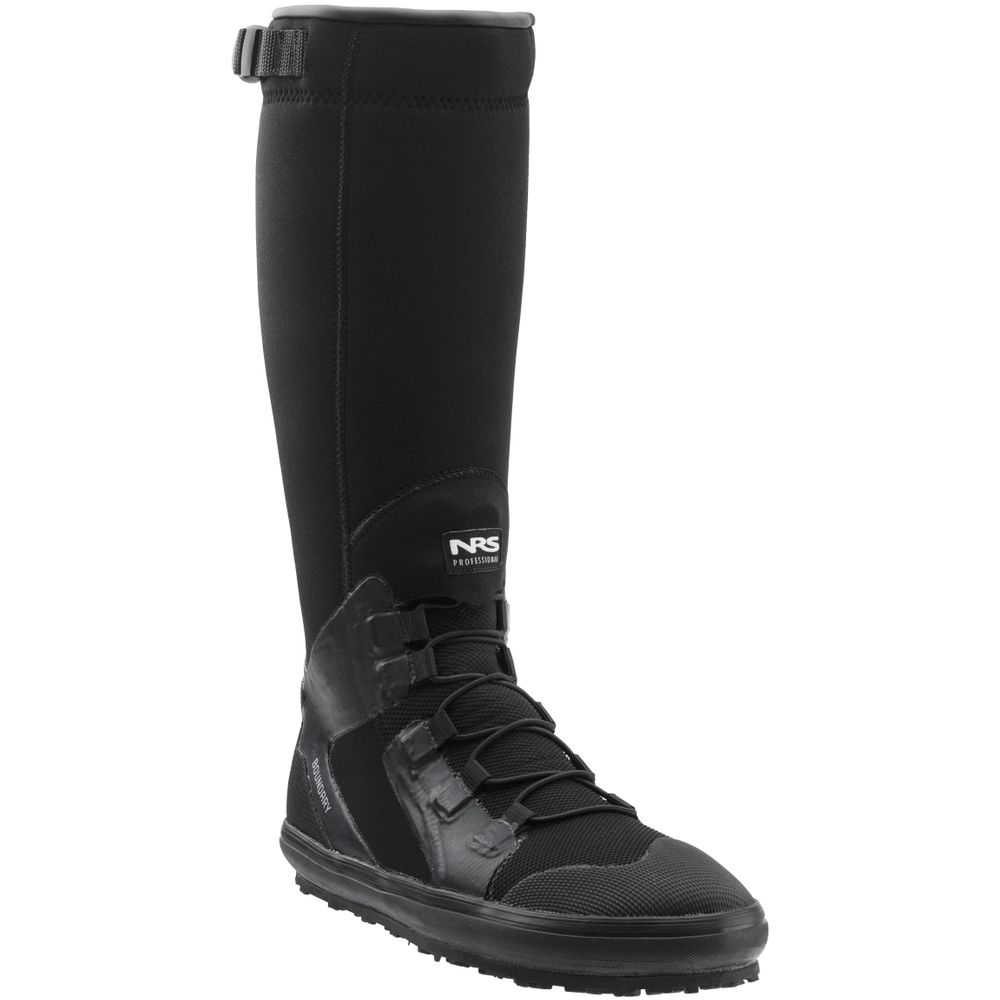 It is still great cold-water paddling gear with thick 5mm neoprene and a 2mm plastic shim to prevent pointy rocks from feeling, well, pointy. Another neat upgrade: a new "Quick Lace" system was added to give a more secure feel, especially when wet. Once adjusted, tuck the system away in its storage compartment, to ensure it never snags inside the boat or on passing brush.