It is with a heavy heart that we have cancelled the symposium for this year, as we ultimately feel that we could not offer the quality experience that we normally offer, given the current situation with COVID-19. There are too many risk factors involved, and in order to keep everyone safe it just wouldn't be the community event that makes it what it is. :( This was a very hard decision for us to make, as we hold dear to our hearts the DCSKS experience and getting to be around such wonderful people. It truly won't be the same this summer without it, but will make next year's symposium even better!
The dates for next year are July 8-11, 2021 - we really look forward to seeing you there!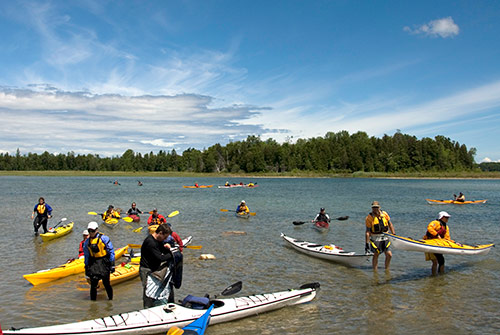 We're excited to celebrate 17 years of the Door County Sea Kayak Symposium. Join us at
Rowleys Bay
Resort in beautiful Door County, WI, as we build a community of sea kayakers for a few days each summer. Whether you are an experienced kayaker or just beginning, the Door County Sea Kayak Symposium is a weekend of fun, growth and learning for everyone!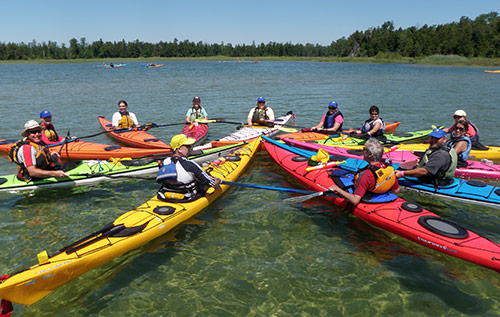 Quality on-water classes and land-based workshops that will help you develop and improve your sea kayaking skills. We offer a beginner track, women-only courses, and specialty courses at all levels. Work on boat control, your forward stroke, rolling, Greenland paddling skills, rescue techniques, and more. Whether you are just beginning, more advanced, or somewhere in the middle, we have classes that will help you learn and grow as a kayaker.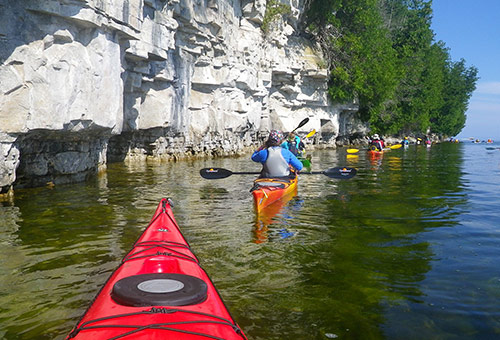 Enjoy guided trips to the rocky coves, rugged cliffs, and sandy beaches of Door County. Whatever your skill level we have a tour for you. Paddle with a naturalist, glimpse a sunken shipwreck, decipher pictographs, spot lighthouses, ride the waves, and more. Discover the beauty of Door County and put your skills to use!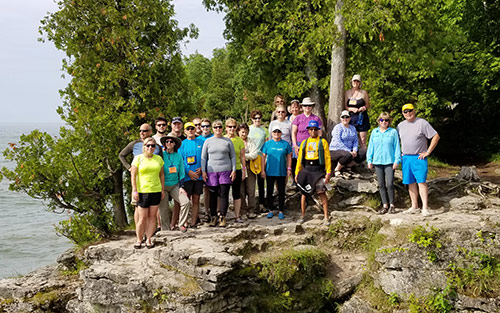 This is what makes our symposium so special! Build a community with other paddlers both on and off the water. Social happenings off the water include group meals, evening campfires and programs, free beer wagon, sunrise yoga, ice cream social (thanks Wilderness Systems), slide show, and an auction to benefit the Door County Land Trust. Make new friends and see the familiar faces of people who have been coming back for years. It's a comfortable, friendly environment that you are sure to enjoy.
| | | | | |
| --- | --- | --- | --- | --- |
| You'll love our experienced, fun and dedicated instructors who are passionate about helping you get to the next level. Come learn from the pros! | | Bring the whole family! We offer paddling classes for kids and guided tours for the entire family. Our youth classes and tours teach paddling skills and safety through play and exploration. | | Check out photos from our past Symposiums to get a sense of what the excitement is all about! |
| | | |
| --- | --- | --- |
| "The most beneficial aspect of the weekend was becoming part of a paddling community and meeting people who inspire me to learn more and become more confident in the skills I have and have not learned." | "The best part about the symposium was being in a community of paddlers in a supportive atmosphere. I prefer solo paddling and getting away from the crowds but I was touched deeply by the positive energy of so many leave-no-trace, silent sports people." | |