Canoecopia is presented by

Presenting Sponsor
---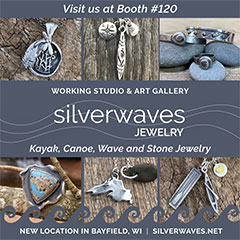 Location
Alliant Energy Center
1919 Alliant Energy Way
Madison, Wisconsin
Show Hours
Friday: 3 PM to 8 PM
Saturday: 9 AM to 6 PM
Sunday: 10 AM to 4 PM
Tickets
1-Day: $15.00
3-Day: $30.00
Ages 17 and under are FREE
Cash or check only for tickets purchased at the event
Virtual Tickets
Virtual: $15.00
Access for 90 days
Parking Fees
1-Day: $8.00
Cash or credit, fees collected by Alliant Energy Center
Feedback


www.savetheboundarywaters.org/


Madelyn was first introduced to Canoe Country in 2014 when she did a Girl Scout Destination trip to the Northern Lakes Canoe Base for a 10 day Boundary Waters Canoe Area/Quetico Provincial Park excursion. Following that spectacular experience, she returned to the NLCB for two seasons as a Guide in Training (GIT), and then 3 more summer seasons as a wilderness guide, she then went on to work for Ely Outfitting Company as a guide and a gear manager.

Canoe Country inspired her to follow a career path in the outdoor industry, so she pursued a degree in Natural Resources Recreation & Tourism, and a minor in Conservation Biology, from Colorado State University. She was hired by the Campaign to Save the Boundary Waters in September 2021, where she had previously been a volunteer. She also founded "Rams for the Boundary Waters" while at CSU, and traveled to Washington DC with Kids for the Boundary Waters to urge policymakers to protect the Boundary Waters Canoe Area Wilderness and surrounding public lands.


bookmark
The Campaign to Save the Boundary Waters inspires Americans to defend the most unique lakeland canoe-area wilderness in the country from the threat of proposed sulfide-ore copper mining. They're constantly looking for new ways to raise awareness around this issue and inspire more people to stand up and protect this sacred Wilderness.

They are currently involved in two public comment periods relating to sulfide-ore copper mining in the watershed of the Boundary Waters Canoe Area Wilderness: explain MERA (ends in December) and explain Fed withdrawal (ends in January). They are optimistic and anticipate that these actions will provide how to explain temporary protection (ie: mineral withdrawal). However we still need to pass legislation to permanently protect the Boundary Waters.

This presentation will cover recent updates and actions that attendees can take to help protect the Boundary Waters Canoe Area Wilderness. The Twin Metals project site is located off the shores of Birch Lake and the South Kawishiwi River, just a few miles from the Boundary Waters Canoe Area Wilderness. Any pollution from this mine site will flow into the Wilderness. In addition to the mine site tour they will be updating folks on the latest actions regarding this project at the Federal level, State level and in Federal Court.
bookmark