Canoecopia is presented by

Presenting Sponsor
---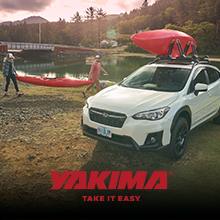 Location
Alliant Energy Center
1919 Alliant Energy Way
Madison, Wisconsin
Show Hours
Friday: 3 PM to 8 PM
Saturday: 9 AM to 6 PM
Sunday: 10 AM to 4 PM
Tickets
1-Day: $15.00
3-Day: $30.00
Ages 17 and under are FREE
Cash or check only for tickets purchased at the event
Parking Fees
1-Day: $8.00
Cash or credit, fees collected by Alliant Energy Center
Feedback

| | | |
| --- | --- | --- |
| www.facebook.com/people/Silver-Paddles/100008548140112 | | Ethan and Andrew Elkins have been out in the wilds since they were just 4 and 5 years exploring the Boundary Waters Canoe Area Wilderness and Killarney Provincial Park. They have completed over 70 trips to the Boundary Waters and Canada Crownland. In recent years, they have tested themselves with longer trips like crossing the entirety of the Boundary Waters without resupplies on paddle boards. They have spoken at Canoecopia, REI, scout camps, and Parks Commissions. With their experience in the wilderness camping, they hope to help you with taking your camping trips further and with a bit more confidence. |
Ethan & Andrew Elkins, Andrew ELKINS, Chuck Pils
Keep your food, and eat it too! Andrew and Ethan share the best ways to hang a bear-bag, and maybe demonstrate a hang or two. They will also go over some gear including deterrents, creature comforts, and the differences between a portage barrel and a bear barrel. Many Examples to see in person.
Ethan & Andrew Elkins, Andrew Elkins, Chuck Pils
Ethan and Andrew hope to help to raise your confidence in the campsite. They'll go over how they have been successful in staying off bears' radar while out camping in the wilderness using techniques in campsite setup, useful scent-control related gear, and other best practices. They will also be joined by a DNR representative to go over some bear do's and don'ts.