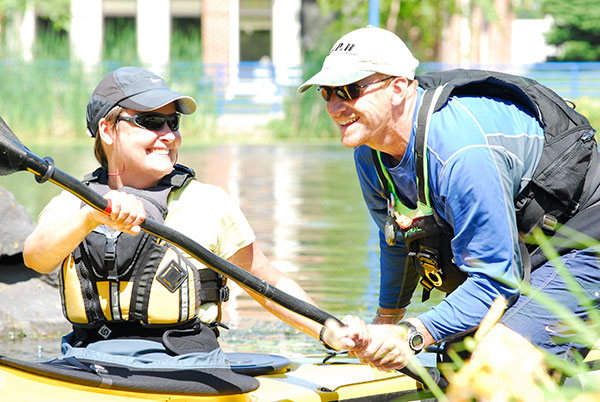 Share your passion for paddling by becoming an
American Canoe Association (ACA)
Instructor.
For almost 50 years, the ACA has been the leader in paddlesports education. The ACA's National Paddlesports Instruction Program is widely considered the "Gold Standard" in the U.S. and abroad. The reasons to pursue certification are vastly different for each Instructor Candidate; however, what every student takes away from the certification workshop can be remarkably similar. First, there is simply the experience gained and knowledge shared by fellow candidates throughout the class.
A lot of participants say they come to be a "sponge" and absorb teaching ideas, paddling information, and skill feedback. Second, through the certification process you will learn a specific and proven set of paddlesports instructional best practices. Instructor Trainers who conduct instructor certification workshops will demonstrate and teach a central model to which you can add your own creativity and personality.
With a dedicated Safety Education & Instruction Department and the oversight of the Safety Education & Instruction Council, the ACA is able to systematically maintain, review, and improve the National Paddlesports Instruction Program to continually provide relevant tools and resources for ACA instructors in every discipline.
ACA Instructors teach paddling courses based upon approved ACA course outlines; an ACA Instructor can teach both skills courses and assessment courses up to their level of certification.
To become an Instructor, two steps are required by the ACA: an Instructor Development Workshop, followed by an Instructor Certification Exam. Instructor Certification Workshops (ICWs), which is what Rutabaga currently offers, combine both the IDW and ICE into one 3-day or 4-day workshop.
Call the Rutabaga Outdoor Adventures office at 608-310-3852, or email
classes@rutabaga.com
, to learn more about becoming an instructor!